Can Hillary Clinton Win the Democratic Race for Toughest Wall Street Cop?
She's just the latest presidential candidate to unveil sweeping plans to regulate financial dealings.
By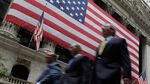 The first Democratic presidential debate Tuesday in Las Vegas is primed to make Wall Street very uneasy, with candidates expected to jockey over who can be the toughest sheriff on financial institutions to keep pace with the populist undercurrent sweeping the party and shaking up the race for the nomination.
As she prepared to leave the campaign trail for a few days of debate prep, front-runner Hillary Clinton teed up a plan to crack down on Wall Street. Meanwhile, two of her rivals for the Democratic presidential nomination, Senator Bernie Sanders of Vermont and former Maryland Governor Martin O'Malley, already have been touting more far-reaching proposals to break up the biggest banks and reinstate the Glass-Steagall law that imposed separation between commercial and investment banking.
Key provisions of Clinton's proposal include a tax on some types of high-frequency trading "involving excessive levels of order cancellations," a risk fee on banks, and strengthening the Volcker Rule to limit some forms of speculative investments and prosecute individuals—not merely institutions—for corporate wrongdoing.
"To prevent irresponsible behavior on Wall Street from ever again devastating Main Street, we need more accountability, tougher rules and stronger enforcement," Clinton wrote in an op-ed for Bloomberg View. "I have a plan to build on the progress we've made under President Obama and do just that."
Reviews of the proposals by Clinton, who served as Obama's secretary of state and, before that, as a senator from New York, are mixed. "These are non-trivial improvements in Dodd-Frank—by closing Volcker Rule loopholes and by significantly boosting individual accountability," said Jared Bernstein, a former top economic adviser to Vice President Joe Biden. "I think that has the potential to prevent the kind of excesses that got us into so much trouble." But Bernstein said Clinton's transaction tax is "far too narrow" as  it only targets a manipulation tactic known as spoofing. "It doesn't go far enough," he said. "My view is that a small transaction tax with a much broader base would do much more."
Other skeptics raise questions about where Clinton's loyalties lie. She draws significant campaign support from Wall Street and, although Wall Street watchdog Gary Gensler is playing a key role in her campaign, other Clinton associates, such as financial industry veterans Robert Hormats and Thomas Nides, who worked with her at the State Department, have made liberals suspicious. "If any of her ideas are going to see the light of day, she needs to surround herself with a much tougher set of advisers and regulators than what we've been seeing," said a former Democratic Senate staff member who worked on Dodd-Frank and who spoke on condition of anonymity.
At next week's debate, Clinton is most likely to be accused of not going far enough.
Sanders, whose populist platform is winning him surprising support in the Democratic presidential race, has made Wall Street reform a centerpiece of his campaign, proposing to deny "too big to fail" banks access to Federal Reserve's discount facilities or insured deposits, levy a broad financial transaction tax and prohibit bonuses for financial executives who accept senior-level government jobs.
"Given the image of big banks today, it is easy now to take on Wall Street," Sanders said in a statement after Clinton released her plan. "I was there when it was not so popular."
O'Malley, who has struggled to gain any traction in the primary, also views Wall Street reform as an issue where he can gain a leg-up. His deputy campaign manager, Lis Smith, criticized Clinton's plan as one that "falls short on what should be our ultimate goal: preventing reckless Wall Street speculators from backing up their bad bets with taxpayer money." She invoked reinstating Glass-Steagall, a provision in O'Malley's blueprint to take on Wall Street, in order to set up "a defined firewall between Wall Street and taxpayers."
In her op-ed, Clinton embraces the goal behind Glass-Steagall—to avoid excessive risk-taking—but said that she prefers to achieve it by beefing up the Volcker Rule. Bernstein, now a senior fellow with the Center on Budget and Policy Priorities, argued that Clinton's approach is more politically pragmatic: In the current polarized climate, it would be easier to beef up an existing regulation than to pass new legislation.
One executive who works for a major Wall Street firm said it's unclear if Clinton's tax on high-frequency trading and Volcker Rule changes would make a major dent, but called her proposal to hold executives and employees directly accountable "more worrisome" as that "doesn't really happen now."
A number Senate Democrats welcomed Clinton's proposals.
"I like it," Ohio Senator Sherrod Brown, the top Democrat on the Banking Committee who is among his party's most liberal members, told Bloomberg. "It's a pretty good start. I don't know if anything goes far enough. I think it makes sense. The things she does will contribute to safety and soundness, will make Wall Street more trustable by the public," he said. "All the things that we need out of Wall Street, it does."
Brown wouldn't comment on Sanders's plan and said he doesn't plan on endorsing in the presidential race "any time soon."
Senator Richard Blumenthal, a Connecticut Democrat, said Clinton's measures "ought to be considered as part of a broader set of reforms" for financial institutions. "I think there is a need to examine some of the areas that Dodd-Frank left unaddressed."
Adam Green, co-founder of the Progressive Change Campaign Committee, summed up the sentiments of the liberal base that the Democratic candidates will be courting.
"One year ago, who was predicting that all top Democratic candidates would be talking about jailing Wall Street bankers, breaking up too big to fail banks, and picking executive branch appointees who will crack down on Wall Street?" he said. "From Wall Street reform to debt-free college to expanding Social Security, the Elizabeth Warren wing of American politics is on the rise."