Paul, Rising: The TV Glut Is Good for This Comedic Actor
There's too much television. Which means there's never been a better time to be a middle-aged actor staging a comeback.
By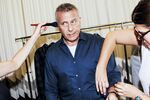 Paul Reiser still looks like Paul Reiser. The curly pompadour from his Mad About You days has receded to a rough thatch of steel wool, but his voice has lost none of its nasal tone, and he remains physically fit, even by Hollywood standards. Nevertheless, you'd be forgiven for not remembering what Reiser looks like. Or even who Reiser, 58, is. He basically disappeared when the sitcom that made him famous ended in 1999.
In the last year or so he's started reemerging. He had a small, memorable role as the sincere, somewhat hapless father of a drumming prodigy in last year's Oscar-nominated Whiplash; another as the wry, somewhat hapless father of a young man in love with a zombie in Life After Beth; and yet another as the much-older husband of a character in the FX comedy Married. In 2013 he popped up as an entertainment attorney in HBO's hit Liberace biopic, Behind the Candelabra.
Right now, he's in a Los Angeles photo studio preparing for the release of his latest project: Red Oaks, a comedy series set in the 1980s at a New Jersey country club, released Oct. 9 by Amazon.com's original production arm, Amazon Studios. He plays Mr. Getty, the club's smarmy president, who shares the actor's acerbic mien—to a certain extent. "Getty is the prick. I didn't really respond to him much at first," he says. But the more he read, Reiser adds, "I thought, OK, now I see where we're going. You could see the dots on the curve."

To hear him talk, you'd think he'd been sorting through scripts and turning down parts all along, but only recently did he come back from a half-decade hiatus during which he did no work at all. The 2000s were rough on comics like Reiser, who'd watched their stars rise in sitcoms during the 1990s and set again as audiences turned their attention from celebrity-driven series. Tim Allen, a Reiser contemporary, has seen his Home Improvement follow-up Last Man Standing routinely draw just a third of the ratings posted by ensemble comedy Modern Family. (It's worth noting that Allen's series, despite its lackluster ratings, is now in its fifth season.) Since Frasier ended in 2004, Kelsey Grammer has starred in four television shows, none of which has lasted longer than a season.
In a previous era, these actors might have disappeared completely, but with such a glut of entertainment now, there's more than enough work to go around. At his presentation this year to the Television Critics Association, FX Chief Executive Officer John Landgraf revealed research his network had done showing the number of original scripted series grew 75 percent, from 211 to 371, from 2009 to 2014, in part due to the arrival of Amazon, Netflix, Hulu, and other new content creators. As of early August, there were 267 original shows on the air—that was before fall series premieres. Landgraf's team predicts that number will reach more than 400 by yearend. Likewise, the number of films released in 2014 was up 135 percent over 2009, according to Box Office Mojo.
That's not to say Reiser's recent success has been purely due to numbers. "One of the things that defines Paul for me is that he can say unlikable things, and yet you still love him," says David Gordon Green, director of the Seth Rogen comedy Pineapple Express and director and executive producer of Red Oaks. Together with series co-creator Greg Jacobs, he approached Reiser about the role. "There's a charisma in certain comedians and certain actors that lets them get away with saying s--- that you and I would be slapped in the face for."
Green, 40, is just old enough to remember when Reiser was coming into his own—first as a stand-up comic working the circuit, then as one of the stars of My Two Dads in the 1980s. By the time Green had his breakout directorial hit with 2003's All the Real Girls, Mad About You had been off the air for four years.
After that show wrapped, Reiser took 10 years off to raise his two sons, emerging briefly in 2005 to write and star in the movie The Thing About My Folks, which performed terribly at the box office. In 2011 he attempted to revive his career with a sitcom for his old network, NBC, about a washed-up sitcom star who's having a tough time figuring out his future. "We wanted to call it Next," Reiser says, "as in, What's next?" Then Comcast took control of NBCUniversal, renamed the series The Paul Reiser Show, and threw it on the air against Fox's then-behemoth American Idol. Critics were unkind, and ratings were abysmal. NBC pulled the show after two episodes. Although it clearly pains Reiser to talk about it, the experience put him on his current path. "In a way," he says, "the disappointment of the show freed me up egowise to where I could say to myself, 'You already got mud on your suit. So now go run and play.' "
His first step was to draft new stand-up material—he still does a few shows a month. Next was finding a new agent: Alex Yarosh, partner and head of talent at Gersh Agency, which helped reposition such veteran actors as J.K. Simmons, who won an Oscar for his supporting role in Whiplash, and Jeffrey Tambor, who won an Emmy for his work in Amazon's Transparent. Yarosh, 39, has liked Reiser's work since he was a little kid. "It's a uniquely odd experience representing someone you've been a fan of," he says. "But it also makes the job that much more effective."
Behind the Candelabra, directed by Steven Soderbergh, restarted Reiser's career. When Damien Chazelle, the 30-year-old writer-director of Whiplash, saw Reiser's brief performance in that, he thought of him for his film. Chazelle recalls watching Mad About You in middle school, while the series was winding down, and he liked him in Diner—Barry Levinson's 1982 period high school drama, in which Reiser plays a shy would-be stand-up comic—when he saw it years later. Chazelle had struggled to find someone who could project the necessary downcast-yet-righteous demeanor; through Yarosh's exertions, Reiser's name wound up on his list of actors to audition.
"I think particularly with Paul, there's something direct about his performance style that you'd see with Spencer Tracy, but which you don't see as much of today," Chazelle says. "Doing comedy frees you up from some of the actor-y ticks and mechanics that can bring more dramatic actors down."
In the coming months, Reiser will continue showing up on screen. Married, which earned middling ratings last season, was renewed for a second season. Reiser will also play an NFL doctor in Concussion, a big-budget Sony thriller starring Will Smith due this Christmas. He's completed a half-dozen independent films for 2016, including a meaty turn as a corrupt small-town police supervisor in War on Everyone. "I wanted to find nice little roles—a day, two days, a week of work—in whatever, so long as it's a good project," he says.
Reiser and Yarosh are conspiring to leverage the actor's newfound relevance to sell more television projects, some he'll star in and others he'll write and executive-produce, Yarosh says. "The end goal is we sell another show for Paul," he adds. "And we definitely see future award nominations for noncomedic work." The idea, basically, is to make Mad About You look like just the beginning.
Back at the studio, Reiser glances at his Maurice Lacroix watch. It's a tad flashy and not the one he usually wears. "My everyday watch is a Shinola," he says, "which I like because it's very big and readable. But we've got a new puppy that's been eating my watchband." The Lacroix has three mini dials crowding its face, and Reiser starts to explain what they all mean. "So this is the time," he says, pointing out the first one, "and this is the weather," he gestures. "And this is my career. Oh, it's winding down." Hardly.
Before it's here, it's on the Bloomberg Terminal.
LEARN MORE