Hillary Clinton Calls for Breaking Up 'Too Risky' Financial Firms
The policy proposals lend Clinton ammunition—or at least armor—for the Democrats' first nationally televised presidential debate on Tuesday.
By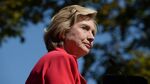 Hillary Clinton supports breaking up or reorganizing financial firms that are "too large and too risky to be managed effectively," her campaign said Thursday as it unveiled a set of proposals aimed at reining in what it sees as Wall Street's abuses.
"Regulators would have the explicit statutory authorization to require that they reorganize, downsize, or break apart," the campaign said in a fact sheet. 
The Democratic presidential front-runner is also proposing a "risk fee" on big banks that could amount to billions of dollars per bank each year, and also penalties on "harmful" high-frequency trading strategies.
"To prevent irresponsible behavior on Wall Street from ever again devastating Main Street, we need more accountability, tougher rules, and stronger enforcement. I have a plan to build on the progress we've made under President Obama and do just that," Clinton said in an op-ed published Thursday by Bloomberg View. "The bottom line is that we can never allow what happened in 2008 to happen again."
MORE: Read Hillary Clinton on her plan to "prevent the next crash"
The policy proposals lend Clinton ammunition—or at least armor—for the Democrats' first nationally televised presidential debate on Tuesday. It will be her first face-to-face confrontation with two candidates who support breaking up the big banks and are pushing for intensified regulation of Wall Street: Senator Bernie Sanders, the Vermont socialist who has become Clinton's surprise chief rival for the Democratic nomination, and former Maryland Governor Martin O'Malley.
Responding to the proposals without mentioning Clinton by name, Sanders was critical of her newly more aggressive approach to Wall Street. "Given the image of big banks today, it is easy now to take on Wall Street. I was there when it was not so popular," he said in a statement.
Clinton, who served eight years as a senator from New York, has considerable Wall Street backing, and she is under pressure from the left wing of her party. In Bloomberg Politics focus groups earlier this week, voters cited Sanders' championing of middle class workers as a reason for his appeal.
While many on the left—including Sanders—favor passing an updated version of the Glass-Steagall Act, Clinton argued in her op-ed that it's the wrong approach for the time. "I certainly share the goal of never having to bail out the big banks again, but I prefer the path of tackling the most dangerous risks in a different way," she said. Her husband, then-President Bill Clinton, signed into law the bill that repealed Glass-Steagall.
Clinton's targeting of high frequency trading may amount to her most meaningful punitive move against Wall Street so far. The proposal would also take aim at spoofing, the practice of rapidly submitting fake orders and then withdrawing them in an attempt to move asset prices in a desired direction.
The Justice Department and the Commodity Futures Trading Commission recently accused a London trader of spoofing that contributed to the May 2010 flash crash, when close to $1 trillion in U.S. stock value vanished in minutes before recovering.
In his 2015 State of the Union address, President Barack Obama proposed a risk fee similar to Clinton's, which the administration estimated would raise $110 billion. Financial companies fought the proposal and Senate Banking Committee Chairman Richard Shelby of Alabama said the plan was "dead on arrival."
If Clinton were to determine that it was a necessary complement to the fee, she would call on regulators to impose higher capital requirements, according to the plan.