Clinton, Bush, and Trump Blitz Iowa With Wildly Varying Campaign Styles
A single day on the trail spoke volumes about the current state of the presidential race in the Hawkeye State.
By , , and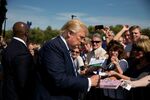 Three of the biggest names in American politics descended Wednesday on Iowa, where the Republican and Democratic presidential front-runners deployed techniques more in keeping with a general election bid than what's expected in a state that prides itself in up-close, retail politics.
As the first winnowers of the presidential field, Iowans expect—and generally receive—quality time with their would-be leaders. A typical candidate appearance four months before the Iowa caucuses might range from a few dozen people to a few hundred in a restaurant or high school gym. Often, virtually every hand in the room gets shaken.
That kind of intimacy just isn't possible when mega-celebrities Donald Trump and Hillary Clinton hit the well-fertilized Iowa ground. In appearances Wednesday, both drew large daytime crowds, about 800 for the former first lady and about 1,000 for the billionaire, whose campaign used metal fencing in places for crowd control. The front-runners enjoyed introductions from high-profile Iowans, including wresting legend Dan Gable on behalf of Trump.

One-time Republican front-runner Jeb Bush, meanwhile, took a more traditional and lonelier approach as he worked through the second leg of a three-day trip across Iowa. On Wednesday, the son and brother of former presidents discussed his ideas for energy policy and for ending Washington gridlock before a crowd of about 100 gathered at Elly's Tea & Coffee in Muscatine, about three miles from where Clinton appeared a day earlier.
The limited-accessibility campaigning on the part of Clinton and Trump, as compared to Bush, reflects their standing in the polls ahead of the Feb. 1 caucuses, as well as their greater celebrity status. Drawing large crowds is always a good thing for a presidential candidate, but only if those attendees can be converted into actual votes.
Trump's team showed signs Wednesday of trying to do just that. As people arrived for his one event at a dance hall in Waterloo, they were handed cards that collected their contact information. Volunteers stayed behind after the candidate's departure to snack on pizza and receive some training on caucus organizing. 
Still, many of those in attendance seemed more interested in seeing the celebrity and snapping photos of him than actually voting. Tammy Godbey, a pension plan administrator from Waterloo who took time off work to see Trump, said she hoped to get a campaign T-shirt. "It's a historical thing to have," she said. "It's a novelty."
Godbey said she had never before attended the caucuses, although she "may" in 2016 if her schedule allows. That's the kind of soft support that can worry campaign professionals. Trump's operatives, which includes about 10 paid staff in Iowa, counter that they plan to boost the size of the electorate and draw in new voters such as Godbey.
Andy Cable, a member of the Republican Party of Iowa's state central committee who attended the event, said he remains unconvinced that Trump will be able to convert his current poll standings to actual turnout in the caucuses.

"They will show up at this kind of event," he said of the crowd in Waterloo. "The trick for the Trump people will be to get them to show up at the caucuses."
While no one expects Trump to visit all 99 of the state's counties—as at least one other candidate has already accomplished—Cable said the billionaire needs to spend at least some additional time in rural parts of the state to be viable. "He's still got to do the rural farm setting," he said.
Trump, who took repeated shots at Bush during his speech, is near the bottom third of Republican candidates for time spent in the state this election cycle, according to the Des Moines Register's candidate tracker. A look at his Iowa visits shows they've mostly been near a major airport capable of landing his private Boeing 757-200.
Jeff Kaufmann, chairman of the Republican Party of Iowa, said Trump's style of campaigning is new to the state.
"It's the first time anybody has really tried that," he said of Trump's strategy of leaving Iowa largely to campaign workers and volunteers and making only brief visits to the state. "He's flying at this 2,000-foot level, but at the same time he's got the ground game."
Trump's campaign operation in the state is visible at Republican events and has as one of its Iowa leaders someone with a winning record, Kauffmann said. "Chuck Laudner was Rick Santorum's campaign manager and they won," he said. "I guarantee they have a ground game."
Those who spend more time in the state will ultimately be rewarded, Kaufmann predicted, adding that he thinks there are probably six candidates who still have a chance of winning the state. He declined to name them.
"People are taking a long times to make up their minds," he said. "My hunch is that about 75 percent of the people haven't made up their mind yet. I don't think anything definitive shakes out until January. It's anyone's game right now."
For his part, Bush focused on contrasting his record of conservative accomplishments as governor to the inaction in Washington, putting that gridlock at the feet of presidential rivals such as U.S. Senators Marco Rubio and Ted Cruz. "If you've been in Washington D.C. in the last six years and you're a United States senator, what have you done?" Bush said in Muscatine. "You've pushed back against President Obama, and I admire that. But there's been no change in the culture. We still are stuck. There still is gridlock. The special interests still dominate the place."
Clinton, meanwhile, spent about an hour Wednesday morning at Cornell College in Mount Vernon, speaking to a crowd of about 800 that gathered on a grassy area between a triangle of brick buildings.
She ran quickly through the current iteration of her stump speech before taking questions from the audience on campaign finance, the arrest of clerk Kim Davis and how she'd resolve the Israeli-Palestinian conflict. Faced with the prospect of answering that last question, she joked: "We can be here until dark, maybe we can serve breakfast."
Clinton's one-on-one interaction with voters was limited to the 10 minutes or so she spent working the rope line after the speech, shaking hands and posing for selfies while reporters shouted questions several times about whether she supports the Trans-Pacific Partnership.
She ignored the shouts but clearly had an answer in her head, and slipped inside a building afterwards to sit down for an interview with Judy Woodruff of PBS, to whom she said she opposes the 12-country trade deal.