The Tycoon Left Out in the Cold
China accuses a billionaire of forsaking the fatherland.
By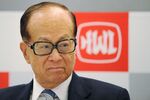 Among the magnates who have dominated Hong Kong's economy for decades, Li Ka-shing is first among equals. Like other tycoons in the city, he's made a fortune investing in Hong Kong and China real estate. Li's also branched out to infrastructure, retail, telecommunications, and port businesses worldwide, without forgetting his roots: He founded a university near his hometown in Guangdong province. The billionaire's role in China's development earned him the gratitude of former Presidents Jiang Zemin and Hu Jintao. "He is almost sacrosanct and untouchable," says Audrey Eu, chairman of Hong Kong's pro-democracy Civic Party.
Under President Xi Jinping, though, even Li—who's worth $32.6 billion—is vulnerable. China's state-controlled media put him in the spotlight last month, following reports that companies he controls were selling properties in Shanghai and focusing more overseas. Outlets including the People's Daily, the newspaper of the Communist Party, questioned Li's loyalty. On Sept. 29 he responded, with his office issuing a three-page statement that said suggestions he was ditching China were "completely untrue." Li's office said his foundation has put HK$14.8 billion ($1.9 billion) into Greater China. His group of companies, led by flagship CK Hutchison Holdings, has opened 1,000 retail stores on the mainland over the past two years and has more than 215 million square feet of projects under development in the country. Moreover, he expressed his respect for Xi's leadership.
Li, 87, has been diversifying his investments. But other factors make him an easy target. Chinese leaders have relied on the business elite to run Hong Kong since the U.K. returned it to the mainland in 1997. The first post-handover chief executive of the local government was Tung Chee-hwa, the former boss of a shipping company. Li and other tycoons served on the committee that chose Tung and his successor, Donald Tsang. But in 2012, Li fell out with the Chinese government over Tsang's replacement, backing a rival of Leung Chun-ying, the candidate anointed by Beijing. "Some of the bigger boys did not vote for the current incumbent, and that won't be forgotten," says Steve Vickers, head of Steve Vickers & Associates, a political and corporate risk consulting firm in Hong Kong.
China's sense that Hong Kong is mismanaged only increased when the pro-democracy protests last year embarrassed Leung's government. Then, in June, Hong Kong lawmakers voted down Beijing's proposal to limit voters' choice to pro-Beijing candidates in elections for the next chief executive. The media campaign against Li "is a signal that times have changed," Eu says, and a message to other tycoons that they'd better make sure Hong Kong behaves. "The attack on Li Ka-shing," she says, "does send shivers down the spines of a lot of businesspeople."
When China was enjoying strong growth, leaders in Beijing could afford to take a smug attitude toward the former British colony and its problems, says Michael DeGolyer, a research fellow at Hong Kong-based think tank Civic Exchange and a former professor of government and international studies at Hong Kong Baptist University. The country's growth, however, has stalled. Xi's anticorruption campaign has crimped investment and spending, increasing a sense of retrenchment. That's put the spotlight on Li's moves to diversify beyond China. The leaders in Beijing "see him doing real injury to a country in its time of need," says DeGolyer. "They're worried."
In 14 of the past 15 months, more money has flowed out of China than in. This year alone, $475 billion has left the country. Because China has reserves of $3.6 trillion, there's no immediate crisis, but the trend is troubling. "My worry is that, given the relatively large economic downward pressure, it means more money will leave China," Huang Yiping, an adviser to China's central bank and an economics professor at Peking University, said at the World Economic Forum last month in Dalian.
Li's companies have announced more than $27 billion in mergers and acquisitions in Europe so far this year, according to data compiled by Bloomberg. European regulators will soon rule on whether Li's Hutchison can complete a £10.2 billion ($15.6 billion) acquisition of O2, a deal announced in March that would create Britain's largest mobile phone operator. Hutchison is Asia's biggest investor in European telecommunications. Businesspeople follow Li's lead, says Emily Lau, chairman of Hong Kong's Democratic Party, and "they think he has the Midas touch." The Communist leadership is therefore "concerned others will follow him and take their money elsewhere."
From now on, China is going to take a more active role in managing Hong Kong's affairs, Vickers says, and won't be as concerned about hurting the feelings of billionaires like Li. The tycoons "didn't deliver," he says. "That arrangement is R.I.P."
—With Xin Zhou
The bottom line: China is criticizing Hong Kong's top tycoon at a time when money is leaving the country at an accelerated pace.
Before it's here, it's on the Bloomberg Terminal.
LEARN MORE