For the past six years, Congress has blocked scheduled minimum wage increases from taking effect in American Samoa. Under the federal minimum wage law passed in 2007, workers in the tiny South Pacific territory were supposed to get yearly raises of 50¢ an hour until they met the federal floor of $7.25. Rates went up the year the bill passed and in 2008, and again in 2009. Since then, the Samoan minimum wage has been frozen, most recently by a 2012 bill that scheduled increases every three years rather than annually—a time frame that would leave wages in the Samoan tuna canning industry, a major employer, trailing mainland pay until 2027, according to a report by the U.S. Government Accountability Office (GAO).
For a while it looked like the wage hike that was set to take effect on Sept. 30 would also die. The House voted on Sept. 28 to delay the increase until after Dec. 31, 2016. Then Georgia Senator Johnny Isakson, a Republican, stepped in. He negotiated an amendment that provided for an immediate 40¢ hourly wage increase, with additional raises kicking in every three years. It passed the Senate and was adopted by unanimous consent in the House on Oct. 1.
Whatever Isakson's concerns for the welfare of Samoan workers, he had another reason to get involved. In 2010, Chicken of the Sea, the century-old tuna packer now owned by Thai Union Group, opened a cannery in Lyons, Ga., to handle tuna shipped from Thailand. Samoan cannery workers earn 70 percent of the U.S. minimum wage, making it relatively expensive to can tuna in his state. "That's an unfair competitive disadvantage for Georgia companies and other fish companies around the country," Isakson says. "I was trying to get everybody who was affected by it to agree to something that everybody could agree to, and they agreed to 40¢."
The senator faced opposition not just from House Republicans but also from Samoan leaders. In 2014 the territorial government asked for a delay in the wage increase. Samoa's economy has been flat or declining since 2005. "Please bear in mind this federal minimum wage set for 2015 is nothing but a prescription for total economic ruin for the territory of American Samoa," wrote Governor Lolo Moliga in a letter to the GAO. He also called for allowing the territory to develop its own wage schedule with federal oversight.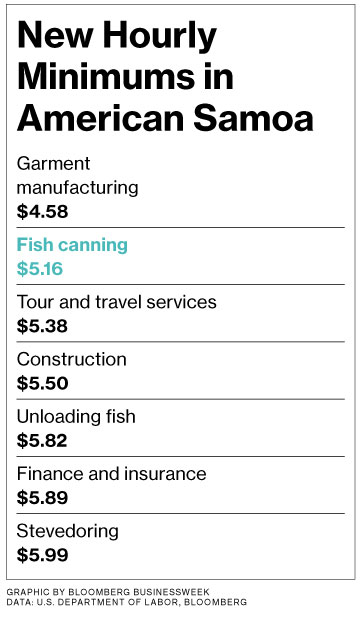 The Samoa News reported in May that businesses in the territory had joined together to oppose raising the minimum wage, including cannery operators Tri Marine International and StarKist, which is owned by Korean seafood company Dongwon Industries. "The American Samoa economy is in a fragile state," StarKist spokeswoman Michelle Faist said in a statement. "It is becoming progressively more difficult for American Samoa to compete with other manufacturing locations, where labor costs and other expenses are substantially lower."
After the vote, Amata Coleman Radewagen, American Samoa's nonvoting congressional delegate, a Republican, issued a statement warning that future raises wouldn't be an easy sell. "This increase, while welcome for the people, will place an even greater strain on our local industry, which is already under attack from all sides," she said. She thanked Tri Marine and StarKist "for their understanding, patience, and cooperation during the negotiations," but said their battle against Thai Union and Chicken of the Sea wasn't over: "This new interest from the Georgia delegation translates into a tougher fight on any tuna canning issue in the future."
The bottom line: StarKist lost a fight to delay a wage hike in American Samoa after a senator stepped in to help Chicken of the Sea.
Before it's here, it's on the Bloomberg Terminal.
LEARN MORE