Free the Hooch
Chicago banned happy hour. Now it's back. Less sloppily so.
By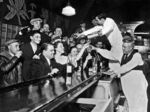 Happy hour, that time-honored tradition of discounted after-work drinking, is one of the greatest benefits of being young and employed (or even unemployed) in an American city. Unless that city is Chicago, where it was prohibited for almost 25 years.
In July, Illinois lawmakers decided it was time to liberate the cheap booze. The state legislature voted to overturn the ban, and as of this fall, bars and restaurants can serve discounted drinks for as many as four hours a day, capped at 15 total per week. State Representative Sara Feigenholtz told Crain's the decision was "an effort to recognize the fact that Illinois has become a culinary destination." Happy hour brings more people to restaurants—and more tax dollars to a state that's so far in debt (about $150 billion and counting, according to the nonprofit State Budget Solutions) it suspended payouts to lottery winners until a new budget passes.
Happy hour was born during Prohibition, when men met at speakeasies for a few illegal drinks before going home to dinner. The habit stuck after alcohol's re-legalization. By the early 1970s, bars across the country were offering drink specials to woo the after-work crowd. "There were huge buffets of food and three-for-one drink specials in some places," says Patrick Henry, chief executive officer of Patrick Henry Creative Promotions, a food and beverage marketing agency. "It was basically disgusting."
The legal backlash started in the '80s, when organizations such as Mothers Against Drunk Driving launched national awareness campaigns about binge drinking and driving under the influence. "If there's one thing we know better than almost anything else, it's that when the price goes down, people drink more," says Alex Wagenaar, a professor of health at the University of Florida College of Medicine.
Currently 23 states have some sort of restriction on discounted drinking, though only eight completely prohibit happy hour; Massachusetts was the first to outlaw it, in 1984. But even in some of the states, such as Oklahoma and Indiana, there aren't laws about drink deals that last the entire day, making these statewide bans ineffective. They're also difficult to enforce—there are simply too many bars to justify routine checkups. As with underage drinking, bars themselves tend not to be too restrictive.
Illinois's own reversal began on New Year's Eve 2013, when Scott Weiner threw a party at his Chicago bar, the Fifty/50, during which, for $80, revelers could enjoy a five-hour open bar and a two-hour buffet. "It was the same package we'd been offering for years," Weiner says. But that year, the city of Chicago sent him a $5,000 ticket. Weiner, who sits on the government relations board of the Illinois Restaurant Association, says at least 40 other bars got similarly large tickets that New Year's Eve. He and the restaurant group lobbied for the law to change.
Now the money is flowing like the beer. Hotels such as the Trump Chicago and tourist destinations like Navy Pier immediately instituted deals. "We're keeping it pretty simple for now—just a few dollars off the regular price," says Steven Ford, co-owner of Pork Shoppe, a restaurant in the Andersonville neighborhood. Even so, he's already seeing an increase in sales. "Our Monday afternoons have gone from OK to fantastic." Weiner says happy hour has boosted his sales about 30 percent.
That's because people who drink more are likely to gorge on food, too. Happy hour primarily attracts young people, age 21-34, according to industry research group Technomic. "A lot of them might not want to pay for a full dinner," says Donna Hood Crecca, the group's senior director. "If you can get them to happy hour, after a few drinks they might decide to stay and eat."
Happy hour itself has grown up, too. While drink specials used to be considered a lowbrow marketing ploy, upscale restaurant chains such as Fleming's and Ruth's Chris have started using them to bring in customers put off by the $40 price for a steak. "The buffets are gone, and the fried food has been replaced by higher-quality, more innovative options," says Henry, the food and beverage marketer. "It's not just about drinking as much as you can anymore." Tell that to the interns.
Before it's here, it's on the Bloomberg Terminal.
LEARN MORE