China's High Cancer Drug Prices Create a Lucrative Market in Hong Kong
Some Hong Kong pharmacies sell under-the-counter cancer drugs.
By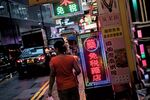 Lined with stores stocking everything from Sony PlayStations to Lacoste polo shirts, Hong Kong's Nathan Road is a favorite destination for tourists from the mainland. Li, a visitor from Hebei province who declined to give her first name, came in search of another foreign brand: Herceptin, a breast cancer drug from Roche Holding. Li found a pharmacy in the area that would sell her some without a prescription, for a cousin back home who's been diagnosed with the disease. The price she paid—HK$20,000 ($2,580) for a 440-milligram vial—was about 30 percent lower than in some parts of China. "When we found out she had cancer, I rescheduled my trip and came here earlier," says Li. "This is life or death, so of course we will do all that it takes to get the best treatment."
Small, rainbow-lit drugstores have become a feature of some of Hong Kong's most expensive neighborhoods, sharing postal codes with outposts of Louis Vuitton and Chanel. Their lineups include muscle rubs, painkillers, aphrodisiacs, and traditional Chinese medicines. But if you ask discreetly, some will also sell you something else: cancer and hepatitis C drugs—no prescription necessary.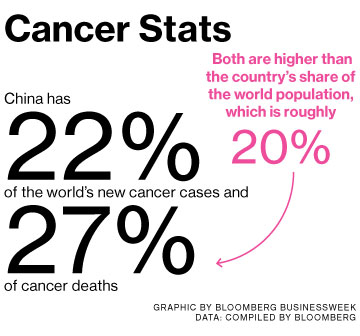 Many treatments, including Herceptin and Gilead Sciences' Sovaldi for hepatitis C, are either unavailable or more expensive in China. Visitors from the mainland also prefer to buy their medicine in Hong Kong because they believe it's less likely to be counterfeit. "We all know Hong Kong has better-quality products," says Chen, a visitor from Guangdong province who was walking out of a pharmacy in the Tsim Sha Tsui district. "Every time I'm here for one of my shopping trips, someone or the other will ask me to bring them back some medicine," says Chen, who also didn't want to give her first name.
Cancer rates in China are soaring, in part because of the country's aging population. The nation registers some 3 million new cases each year, according to the World Health Organization, whose statistics on China are from 2012 but are considered the most reliable. Hepatitis C, which when untreated can lead to liver cancer or cirrhosis, afflicts as many as 44 million.
The research firm Frost & Sullivan estimates the size of China's prescription drug market at 1 trillion yuan ($157 billion) and says it's set to double by 2019. But the reality is that many branded medicines are beyond the reach of most Chinese. Duties on imported drugs can range as high as 17 percent in China, says Neil Wang, Frost & Sullivan's China managing director. (They're zero in Hong Kong.) He adds that the distribution chain for drugs is complex, and markups at various stages push up a product's final cost. Most Chinese lack prescription drug benefits and must pay out of pocket for premium medicines. The upshot: Prices for treatments from foreign drugmakers are some of the highest in the world.
At the same time, a lengthy approval process has delayed the arrival of some of the newest blockbuster medicines from overseas. Sovaldi and AbbVie's Viekira Pak—two treatments that can cure hepatitis C—aren't yet approved for sale on the mainland. Both are available in Hong Kong, which has a separate drug approval process.
Reporters visited 40 pharmacies in Hong Kong and found several willing to dispense medications such as Viekira Pak, Herceptin, Sovaldi, Bayer's Nexavar for liver cancer, and Novartis's Glivec for leukemia, without a prescription. Some quoted prices that were cheaper than those on the mainland; the charges for some treatments not available in China tracked those in the U.S. One pharmacy offered to sell a full course of Sovaldi for about $2,800, a fraction of the U.S. price of $84,000, indicating that the drug might be counterfeit.
William Chui, president of the Society of Hospital Pharmacists of Hong Kong, estimates that 90 percent of cancer drug sales at pharmacies are to mainland tourists, since most local patients can get their supply through hospitals or their doctors. (In China and Hong Kong, physicians can dispense as well as prescribe medicines.) "How can they survive and pay the salary of a pharmacist and the rental cost?" says Chui, referring to the stores in some high-priced neighborhoods. "You think they can get by just selling toilet rolls, formula powder, shampoo? Of course not."
Hong Kong's Department of Health conducts routine inspections of pharmacies, including dispatching undercover examiners to document whether some make sales without prescriptions, said an official in an e-mail. From 2011 to 2014, the department conducted 4,775 inspections of pharmacies, which led to 67 convictions for illegal sales of prescription medicines. The maximum penalty for illegal possession and sale of prescription medicines is a fine of HK$100,000 and two years in prison.
Roche spokeswoman Nina Schwab-Hautzinger says the main customers for the company's cancer drugs in Hong Kong are the Hospital Authority and oncologists, though it monitors market demands and would alert authorities to any "unusual activity." Novartis spokesman Dermot Doherty said in an e-mail that the company is "committed to preventing the diversion and counterfeiting of all our products to protect the safety of patients in all countries." Oliver Renner, a Bayer spokesman, echoed the sentiments, adding: "We manufacture prescription drugs, ones that need to be prescribed by doctors."
AbbVie expects pharmacies to dispense Viekira Pak to patients only when presented with a doctor's prescription, in accordance with Hong Kong regulations, spokeswoman Adelle Infante said in an e-mail. Gilead said its drug has been available for prescription in Hong Kong since July, primarily through gastrointestinal specialists and hepatologists, spokeswoman Sonia Choi said in an e-mail, adding it's working to get access for patients in China.
On Aug. 13, the Consumer Council, a government-funded watchdog, cited seven drugstores for "disgraceful" practices, including price gouging, saying the stores threatened Hong Kong's reputation as a "shopper's paradise."
Chen, the shopper from Guangdong, stuffed her purchases of makeup and shampoo into a wheeled suitcase and began looking at the other items on her list. They included a Rolex and Bayer's Nexavar. Although she doesn't have a prescription for the liver cancer medication, she planned to stop in at drugstores to see if they would sell her some.
—With Jill Mao, Jasmine Wang, and Li Hui
The bottom line: Mainland Chinese are buying cancer and hepatitis drugs in Hong Kong that are unavailable or more expensive at home.
Before it's here, it's on the Bloomberg Terminal.
LEARN MORE