Silicon Valley Investors Look North
Canada's hardware industry is dying, but software has boomed.
By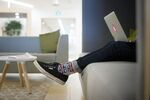 Canada's big tech companies used to be hardware makers, but that era is over. Nortel, once a telecommunications and networking-equipment giant, is a memory, and BlackBerry's phones are an endangered species. From 2009, when Nortel filed for bankruptcy protection, to 2014, the year almost half of BlackBerry's 85 million subscribers abandoned the phones, the size of Canada's hardware industry fell 20 percent, to 72,100 jobs, according to the country's statistical agency.
During that time, though, Canadian software took off. The industry grew 23 percent, to 327,400 jobs, from 2009 to 2014. As Canadian software startups have begun to flourish, U.S. venture firms are looking north more often instead of waiting for the companies to come calling on Sand Hill Road. Canadian venture capital has doubled in five years, to $2.4 billion.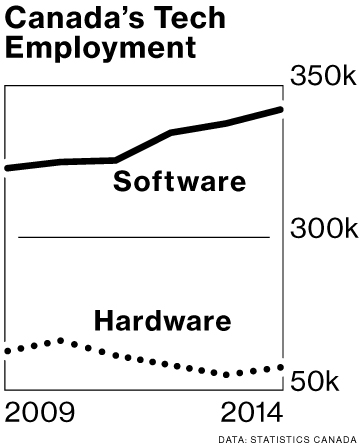 "Anybody that hasn't taken a trip to Canada in the last year or so is probably missing out," says Pat Grady, a partner at Sequoia Capital who helped lead a $34 million investment earlier this year in VarageSale, a Toronto startup that facilitates swap meets. Katherine Barr, a general partner at Mohr Davidow Ventures, has invested in companies including Vancouver's BuildDirect, an online marketplace for construction supplies. "The world needs to be paying attention to Canada," she says.
In May, a successful initial public offering by Ottawa's Shopify, which makes software to help retailers set up online stores, pushed the company's value above $2.9 billion. The shares started at $17 and have more than doubled since. In July, Barry Diller's IAC bought Vancouver-based dating website PlentyOfFish for $575 million. Health-care software startup PointClickCare, based in Mississauga, Ont., announced IPO plans in September. "A lot of folks are paying serious attention now because of the Shopifys," says Barr.
When Razor Suleman took venture funding from Sequoia in 2011, he moved to California. "I was convinced, largely by my investors, that you needed to be in the U.S. to be able to grow a global company," he says. Suleman sold the maker of employee rewards software, Achievers, to Blackhawk Network in July for $110 million. Now, he says, he'll build his next company back home in Toronto.

To take advantage of the increasing pool of Canadian tech talent, some U.S. companies are opening satellite offices above the border. Amazon.com and Microsoft are adding research hubs and staff in Vancouver and Toronto. Google says by yearend it will have tripled the size of its 300-person office in Waterloo, Ont., BlackBerry's hometown. Labor and real estate costs are much lower in Canada, especially given the 16 percent drop in the Canadian dollar relative to the greenback over the past year.
For the country's startups, the rapid growth of the software industry has been checked by the lack of executives with experience building big-deal companies, says Jeff Booth, chief executive officer of BuildDirect. "If you don't have enough people that have seen the movie before, it puts an impediment on the growth," he says. That will change more quickly as the industry keeps expanding, says Aydin Senkut, founder and managing director of Felicis Ventures in Palo Alto. "The more successful companies come out of Canada, the more great role models you have," says Senkut, whose firm joined a $7 million funding round for Shopify in 2010. He says he's investing in six more.
The bottom line: Canada's venture funding has doubled in five years, to $2.4 billion, as its software startups have taken off.
Before it's here, it's on the Bloomberg Terminal.
LEARN MORE