Wall Street Ignores Summer of Trump
Wall Street sentiment on the presidential race mirrors betting venues more than polls.
By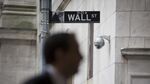 Julian Gingold, a stockbroker at UBS Group, has a simple formula for deciding whom to back in the Republican presidential primary: the most conservative candidate who can win. Anthony Scaramucci, who runs a hedge fund-of-funds business, likens the choice to picking a top executive.