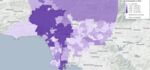 In the U.S., commercial and residential buildings emit nearly 40 percent of all CO2 emissions. Their energy use—which represents nearly 70 percent of the country's electricity load—is the biggest driver of their output.
But not all buildings, nor their occupants, use energy equally. Not knowing which kinds of buildings consume what is like not being able to gauge differences between a diesel truck and a hybrid car.

That's what Stephanie Pincetl, a UCLA environmental planning scholar, has long believed. Now, with colleagues at the California Center for Sustainable Communities, Pincetl has assembled Los Angeles County's very own Energy Atlas.
The database charts and maps previously unreleased data on household natural gas and electricity consumption obtained from utilities alongside Census records. It's fully searchable: The curious can sort L.A.'s energy use by income, neighborhood, energy type, building age, and plenty of other measures.
"Before now, only utility companies had the energy-usage data—not rate payers, not renewable-energy advocates, not city governments—and even the utilities did not connect it to the full range of variables in the atlas," Pincetl, who directs UCLA's California Center for Sustainable Communities, said in a press release.

In 2010, lighting, heating, and electrifying L.A. County buildings took took 192.47 trillion BTUs. (One BTU is the amount it takes the warm one pound of water one degree; the average American household uses 90 million BTUs annually.) Residences, which make up the majority of buildings in L.A. County, consumed the most energy of any type: 39 percent of total building energy. Of that, single-family homes used 62 percent.
Given that low-income families tend to live in multi-family buildings, perhaps it's not surprising that the highest energy users were also those with the highest incomes. Residents of wealthy beachside Malibu used more than 10 times more energy per capita than those in working-class Bell, a city south of east L.A.

However, poor cities used more energy per square foot than wealthier ones. The most consumptive city per square foot, Compton, used five times more energy than Signal Hill, the least consumptive. Low-income families often lack access to "green" appliances and are more likely to live in the least-efficient buildings. But this finding also reflects density patterns: Compton brims with about 9,500 people per square mile, while Signal Hall has about half that. (There are also outliers: Hidden Hills, the super-rich city called home by the Kardashians, uses nearly as much energy per square foot as Compton, but with only 1,135 people per square mile.)
Nuances like these make the Energy Atlas valuable to officials looking to make cities more energy efficient. Low-income neighborhoods, for example, have recently been the target of high-level investment for energy sustainability on a square-foot basis. The authors write:
… [t]here could be important equity implications in only using the square foot metric, which can make a city like Malibu appear to be relatively energy efficient even though they consume considerably more energy per person.
To determine which neighborhoods need the most attention, high-resolution information is crucial. Also helpful is the Atlas' mapping of which cities have the most potential when it comes to solar energy.

Apart from planners, the Atlas is useful for anyone in L.A. County. "From people wanting to buy a building to folks wanting to improve energy efficiency of buildings, there is now real data," Pincetl said.