Blythe Masters Says Forget Bitcoin, Embrace the Blockchain
By
Blockchain seen as key to improving post-trade settlements

CEO of Digital Asset Holdings speaks at Bloomberg Conference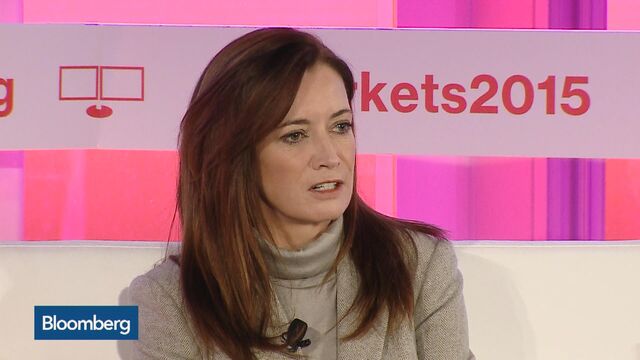 Blythe Masters, chief executive officer of New York technology startup Digital Asset Holdings, doesn't care much about bitcoin.
"I never became particularly enamored with cryptocurrency," Masters said at the Bloomberg Markets Most Influential Summit in New York on Tuesday.
Masters is interested in the blockchain, the technology underlying bitcoin, which is at the center of much hype as well as promise for transforming Wall Street trading. Blockchain technology, a shared, cryptographically secure ledger of transactions, could save major financial institutions billions of dollars on the cost of settling trades and other financial transactions, while improving efficiency and reducing errors.
"That's a pretty long list of positive attributes," said Masters. Digital Asset Holdings, which she joined in March, designs software that banks, exchanges and other market players can use to make financial transactions more efficient with blockchain technology.
Financiers have begun sizing up blockchain's potential as a tool for markets. JPMorgan Chase & Co., Barclays Plc and Credit Suisse Group AG have all joined startup R3 in developing protocols for using blockchain to speed execution and settlement of trades in markets including syndicated loans and repurchase agreements. 
A recent study found 94 percent of financial services professionals surveyed on Wall Street said blockchain-- also called a distributed ledger or decentralized ledger-- could be used in finance. Some companies have already put the blockchain to use as a mechanism for ATM withdrawals, gold bullion-related recordkeeping and land title registries. Still, the blockchain can appear complex and intimidating even to financial professionals.
"At its simplest level, a blockchain is nothing much more than a fancy kind of database," Masters said.
Before her startup stint, Masters spent more than two decades at JPMorgan. She rose to prominence in the 1990s after helping to develop credit swaps, the derivatives that enable investors to hedge risks on bonds. She ran several credit desks and became the     
investment bank's chief financial officer before being named to run the commodities business in late 2006.
At 46, she said she is the oldest person "by a significant margin" at Digital Asset Holdings. At times, the age gap has led to a clash of cultures between the Wall Street veteran and technology startup employees.
"We've had to negotiate dress code," said Masters. "I haven't made them wear suits. It could be worse."