Photographer: Andrew Huff/Flickr
Travel
How Haunted Hotels Turn Terror Into Cash
At the world's creepiest, scariest, and spookiest hotels, sleeping is besides the point.
by
Things to do in Deadwood when you're dead include shooting whiskey alone and basking in the pale blue light of 5¢ slot machines. Activities for the living are similar, though there's also a lovely Chinatown tour.
A few years ago, I took this tour and then spent the night in a pretty, historic hotel on this South Dakota town's main drag. It's a 19th century mining town swathed in American frontier lore, and its contemporary economy is primarily driven by Wild West nostalgia. As I checked into my hotel, the concierge shared both Wi-Fi rates and the best places to see the ghost of sharp-shooting sheriff Seth Bullock, the Wild West legend who'd built the hotel in 1894. She also recommended a dinner theater in which local players reenacted the deaths of frontiersmen murdered on this very spot. Hours later, I spotted the actor cast as slain villain Wild Bill Hickok drinking alone at the hotel bar, the glow of nearby nickel slots his only witness. A phrase from the hotel casino's marketing material—"Seth will be watching"—rang all too true.
Unsubtle, yes; but those South Dakotans are onto something. Hotels around the world are capitalizing on creepiness, proffering ghost tour packages, employing on-site psychics, starring in episodes of television programs such as Ghost Hunters, and redesigning grounds to fulfill the expectations of horror movie pilgrims.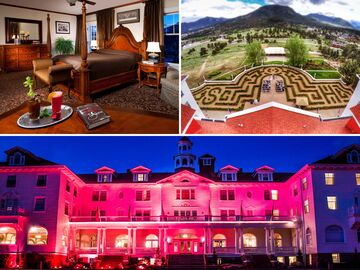 Life Imitates Art
The Stanley Hotel in Estes Park, Colo., is a 1909 architectural marvel listed on the National Register of Historic Places but is perhaps best known as an inspiration for The Shining, the Stephen King novel-turned-Stanley Kubrick cult film. King wrote his creepy classic about a temporary caretaker who goes mad in a remote mountaintop hotel while staying at the Stanley, a fact not lost on the thousands of horror fans who pilgrimage there annually. The hotel commemorates its legacy by staging theatrical séances with an illusionist from NBC-TV's America's Got Talent (tickets start at $20), plus paranormal investigations ($55), scary storytelling sessions ($8), and evening ghost tours ($25).
This summer, John Cullen celebrated his 20th anniversary as hotel owner by installing a hedge maze that recalls the topiary in The Shining's climactic finale. The hotel never had one (Kubrick filmed those icy scenes in a studio in England), but the fictitious structure loomed large and leafy in the minds of visitors.
"For so many years, so many people have shown up and said, 'Where's the maze? I wanna go walk through the maze,'" says David Cianci, general manager of the Stanley.
Cianci estimates that 10 percent to 15 percent of hotel guests are there because of The Shining, and 20 to 80 people attend the hotel's nightly ghost tours. Roughly calculated, paranormal programming may constitute nearly a third of the hotel's annual million-dollar tour revenue.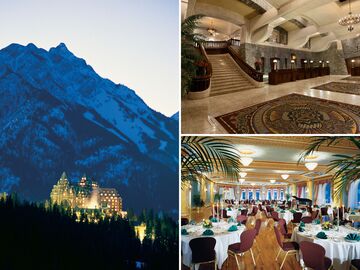 Bump in the Night
The Fairmont Banff Springs, a Canadian castle hotel with a staff historian and two rumored in-house ghosts, wants in on the action. The grand dame recently introduced overnight packages that celebrate its haunted heritage. Packages start at C$399 per night, and include an in-depth walking tour of the hotel's two central ghost stories: former bellman Sam and the evocatively named Doomed Bride. The new offers are rolled out around Halloween; not so coincidentally, that's also the hotel's shoulder season.
It's always ghost season in Savannah, a city whose tourism department runs on Spanish moss and scary stories. Marketing executive-turned-paranormal investigator Timothy Nealon launched Ghost City Tours in 2012 and today escorts more than 100,000 guests per year to such sites as Savannah's proudly "haunted" 17Hundred90 Inn. He expanded to New Orleans in 2014 and will open in San Antonio next year. Thrill-seeking travelers are hardly limited to those three cities, though. Ghost tour operators exist from New York City (Boroughs of the Dead) to San Diego (Ghosts & Gravestones San Diego Frightseeing Tour) to the umpteenth haunted history walks in medieval Edinburgh, Scotland.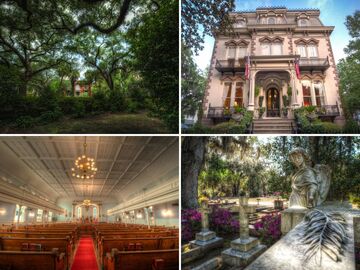 Creep Factor
The Fairmont Banff Springs and Ghost City Tours focus on cultural histories of haunted places. Other operators simply peddle strange.
The Clown Motel, a creepy curiosity in the Nevada desert, 200 miles north of Las Vegas, is a collection of 28 rooms filled with an unholy amount of clown figurines, terrifying even if you don't suffer from coulrophobia. Portraits of famous clowns line its walls (buonanotte, Pagliacci), and it overlooks a Gold Rush-era cemetery. Yes—a hotel, with clowns, in the desert, next to a cemetery. User-generated review sites are populated with enthusiastic pull-quotes. "Such a unique motel!" Yelps a visitor from Austria. "The graveyard was so peaceful!" offers a TripAdvisor user. "Our teenager even bought a clown while we were there." (Somebody is clearly in for an at-home haunting.)
Not bad, for what would otherwise be a dusty drive-by.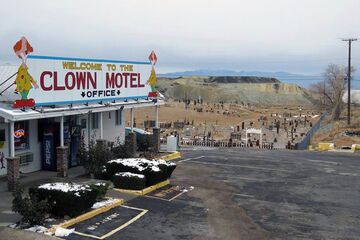 In the Blood
Dr. Margee Kerr, a remarkably personable sociologist who specializes in fear and teaches at three universities in Pittsburgh, assigns the existence—and success—of such operations to a simple human urge: Some people like to be scared. 
"The big appeal of voluntarily engaging with scary material is it gives us a self-esteem boost," Kerr explains. Your body responds to staged scares, like those in horror movies or haunted houses, the same way it does to an actual threat. "It's almost like training wheels for real-life challenging situations," says Kerr. "When the threat is real, you know you can handle it."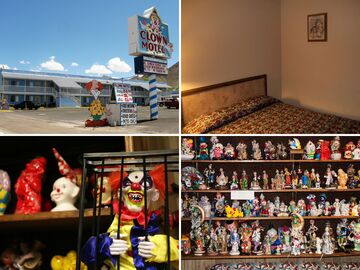 And some people are just made for the Clown Motel: Those who enjoy a good scare actually differ genetically from those who don't. The former have highly efficient dopamine systems, which means their brains get multiple hormone boosts during scary situations.
Savvy hotels aim to appeal to both.
"People come here to enjoy their anniversary, to get married, to experience the Rocky Mountains—not necessarily for a spookfest," laughs Tara Goucher, public relations director at Fairmont Banff Springs and a savvy realist.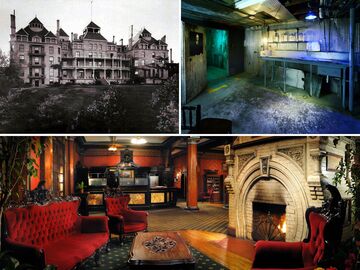 Business of Fear
Bill Ott, marketing and communications director at Arkansas's Crescent Hotel, agrees. In addition to a historic chapel and spa overlooking the Ozarks, the 1886 mountaintop resort has two rooms reputedly haunted by former guests (Nos. 218 and 419) and a former morgue in the basement (natch).  
"Our No. 1 source of revenue is weddings, followed by romantic travelers. There's our bread and butter and our steak," Ott says. "And that little thing, over there on the corner of the plate? Well that's not parsley; it's ghosts."
Clever culinary metaphors aside, the Crescent hosts three to four ghost tours per night for groups of 25 hotel guests and local travelers all year long. Tickets cost $21.50 per person. On a slow night, the Crescent brings in more than $1,600 on ghost tours alone.

Fear is big business. California's Queen Mary, a glamorous, 1937 ocean liner now docked in Long Beach, found success in later life as a hotel, museum, and popular pilgrimage site for hundreds of annual paranormal enthusiasts hoping to spot one of its rumored 150 resident ghosts. The Lizzie Borden Inn, Massachusetts home of the infamous child murderer, appeals to history buffs with the taste of the macabre. And the Hollywood Roosevelt Hotel is at this point as famous for rumored apparitions of Marilyn Monroe as it is its 1927-era swinging pool parties.
Universal Horror Story
Armchair terror enthusiasts are saving Oct. 7, when the next installment of Ryan Murphy's balls-to-the-wall weird and breakout popular anthology series makes its debut: American Horror Story: Hotel. The scariest thing about the series' fifth season may not be Lady Gaga in an acting role but the shock of transforming the warm and fuzzy hospitality industry into one of Biblical trespasses and murderous bedspreads.
Off screen, other hotels ignore their paranormal legacies entirely. The Langham London declined to comment when several members of England's cricket team reported ghostly bumps in the night. And Oregon's Timberline Lodge would really, really prefer you forgot that a scene from The Shining was filmed there.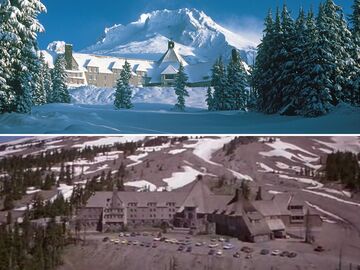 "Timberline is not haunted. You can quote me on that," declares public affairs director Jon Tullis. The hotel, built as a WPA project in the late 1930s, appears briefly in the establishing aerial shot of the fictional Overlook Hotel a the beginning of the film. 
"Yeah, the people at Timberline don't want to talk about The Shining at all," confirms Gabrielle Moss, a 33-year-old writer in New York City who recently traveled to Mount Hood with the express purpose of visiting the hotel. "I mean, they have a commemorative ax behind the front desk, which you can hold and pose for a photo with, but there's absolutely no signage. … I got the impression they think it's tawdry."
Moss did, however, find a discrete collection of The Shining paraphernalia in the hotel gift shop. She purchased a T-shirt. "They'll take your money, but they're not happy about it."
Before it's here, it's on the Bloomberg Terminal.
LEARN MORE