California Becomes Fifth State to Enact 'Right-to-Die' Law
Governor Jerry Brown said his decision to sign the bill into law was influenced by his own personal views on death.
By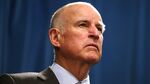 California Governor Jerry Brown signed legislation Monday making California the fifth state in the nation to enact a "right-to-die" law for terminally ill residents. Under the new law, Californians will now be able to end their own lives with the aid of a physician.
The End of Life Option Act had been passed by the state's Assembly and Senate last month. Montana, Oregon, Vermont, and Washington already have similar legislation in place. 
Brown, 77, said he weighed religious opposition to the law, but decided to sign the legislation after considering the matter from a personal perspective. 
"In the end, I was left to reflect on what I would want in the face of my own death. I do not know what I would do if I were dying in prolonged and excruciating pain," Brown wrote in a letter Monday to the California Sate Assembly. "I am certain, however that it would be a comfort to be able to consider the options afforded by this bill. And I wouldn't deny that right to others."