Apple Tax Probe Won't Wound Ireland, Finance Minister Says
by
Noonan sees EU ruling on Apple case between now and year-end

Ireland will appeal a negative EU decision on tax state aid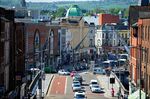 The findings of a probe into Apple Inc.'s tax affairs in Ireland won't hurt the country, according to Finance Minister Michael Noonan, who vowed to go to court to fight any negative ruling from European Union watchdogs.
Ireland has an "indication " the EU will decide before the end of the year whether the nation's tax dealings with the iPhone maker violate the bloc's state-aid rules, Noonan told reporters in Luxembourg Monday. "We don't have a specific date."
Whatever happens, "we don't think it will be damaging to us," Noonan said. "If it's adverse, we think it's based on very thin legal grounds and we'll have it before the European Court of Justice."
In preliminary findings last year, the European Commission said Apple's tax arrangements were improperly designed to give the company a financial boost in exchange for jobs in the country. Apple said in 2013 it had paid an effective tax rate of less than 2 percent in Ireland over the previous ten years. EU state aid rules ban subsidies -- such as tax breaks - that single out certain companies for special treatment.
EU Competition Commissioner Margrethe Vestager has sought a rapid conclusion to the EU's probes into possible illegal aid through tax arrangements for Apple in Ireland, Starbucks Corp. in the Netherlands and Amazon.com Inc. and a Fiat SpA unit in Luxembourg. Still, the commission has indicated that she won't rush the investigations at the expense of a thorough analysis.
Before it's here, it's on the Bloomberg Terminal.
LEARN MORE