politics
Tommy Thompson Endorses Jeb Bush
It's the latest marker in the scramble to pick up Scott Walker's supporters.
By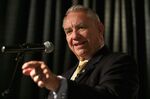 Former U.S. Secretary of Health and Human Services Tommy Thompson said he'll back Jeb Bush's Republican presidential campaign after Wisconsin Governor Scott Walker ended his bid.
"Governor Bush is a proven reformer who has the executive experience to lead our country," Thompson said in a statement to Bloomberg. "I am confident Jeb has the leadership skills we need in the White House in order to bring real reform to Washington, create an environment for job growth and make sure America is a strong world leader. Jeb's record of helping Floridians is emblematic of his passion and work ethic and I know he will be able to do the same for all Americans."
Thompson is the latest former Walker supporter to find another candidate in the race for the Republican presidential nomination. Bush has been competing with rivals, such as U.S. Senators Marco Rubio and Ted Cruz for donors, fundraisers, and staff that had been backing Walker and former Texas Governor Rick Perry. 
Thompson, the Wisconsin governor from 1987 to 1991, served in the administration of George W. Bush, Jeb Bush's older brother, from 2001 to 2005. He is now involved with several healthcare companies, including California-based software maker SkyHealth LLC, where he is chairman; MTS Health Investors, LLC, a New York-based private equity firm where he's operating partner; and Thompson Holdlings, a company formed to oversee investments primarily in the healthcare sector.
Thompson had urged Walker to run for president. He told WISN Milwaukee that Walker's decline was forced by Donald Trump's rise, and predicted that Hillary Clinton, the front-runner for the Democratic nomination, would drop out by Thanksgiving.
The former governor, who is a former partner at Akin Gump law firm and was a senior adviser for Deloitte & Touche, made his own bid for the White House in 2008. He endorsed Rudy Giuliani after dropping out, and later backed eventual nominee John McCain.
Before it's here, it's on the Bloomberg Terminal.
LEARN MORE