Obama Warns Putin Risks a Quagmire in Propping Up Assad
Toluse Olorunnipa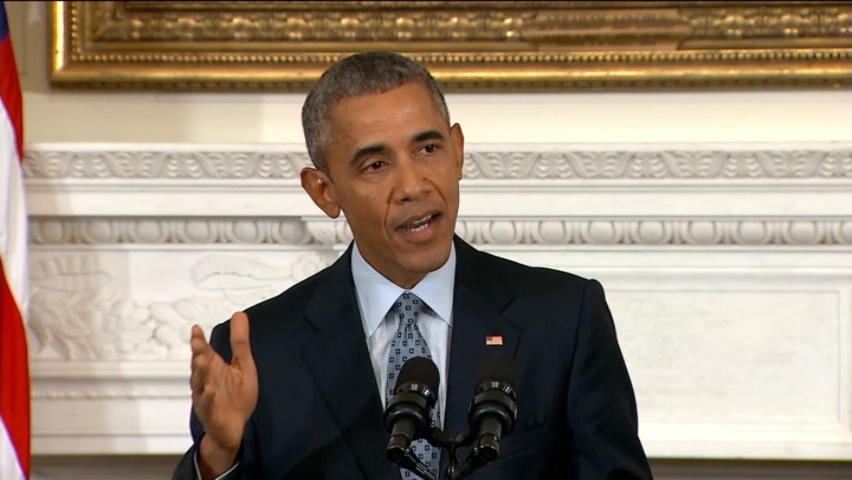 U.S. President Barack Obama said Russia will get "stuck in a quagmire" if it persists in using military force to prop up Syrian President Bashar al-Assad's regime and urged efforts toward a political transition.
Russian President Vladimir Putin intervened in Syria "not out of strength but out of weakness because his client, Mr. Assad, was crumbling, and it was insufficient for him to send them simply arms and money," Obama said at a press conference on Friday at the White House.
In his first public comments about the Syrian conflict since Russian warplanes began attacking targets in the country, Obama criticized Putin for supporting Assad with a military campaign that conflicts with U.S. strategy. The U.S. is intent on destroying Islamic State, and Obama said the country's larger civil war requires a political resolution that would remove Assad, "a brutal, ruthless dictator."
"We are not going to cooperate with a Russian campaign to simply try to destroy anybody who is disgusted and fed up with Mr. Assad's behavior," Obama said, while promising to "maintain lines of communication" on an outcome that would preserve the Syrian state and military as institutions while assuring Assad's departure.
Kremlin spokesman Dmitry Peskov said Thursday that the Russian "operation is aimed at supporting the Syrian armed forces in their fight against Islamic State and other terrorist groups." He said the attacks would take place "for the duration of the offensive of the Syrian armed forces" and that its main goal was to support Assad's government.
Nine Targets
Russian warplanes struck nine targets, destroying a Islamist command center near the Syrian city of Raqqah, the Russian Defense Ministry said Saturday in a tally of attacks in the previous 24 hours, the RIA Novosti news service reported.
At his White House press conference, Obama said, "We reject Russia's theory that everybody opposed to Assad is a terrorist."
He also struck back at Republican critics in the U.S. who have said Obama needs to establish a "safe zone" in Syria or take other measures beyond U.S.-led airstrikes that are targeted at Islamic State forces and an effort to train "moderate" Syrian forces that has failed so far.
'Half Baked'
"When I hear people offering up half-baked ideas as if they are solutions or trying to downplay the challenges involved in this situation, what I'd like to see people ask is specifically, precisely: What exactly would you do and how would you fund it and how would you sustain it?" Obama said. "And typically what you get is a bunch of mumbo-jumbo."
Obama scoffed at the notion that he is weaker than Putin, citing Russia's damaged economy under U.S.-backed sanctions over Ukraine and its lack of success in the Middle East.
"So Mr. Putin's actions have been successful only insofar that it's boasted his poll ratings inside of Russia," Obama said. "Which may be why the Beltway is so impressed."
A 90-minute meeting between Obama and Putin on Monday during the United Nations General Assembly didn't produce a clear understanding of Russia's intentions in Syria. Less than 48 hours after the two leaders shared a tense handshake in New York, Russia began what White House press secretary Josh Earnest called "indiscriminate" air attacks in the country.
Joint Declaration
Military officials from Russia and the U.S. began discussing operations inside Syria on Thursday, attempting to avoid an inadvertent confrontation in the country's skies.
Those talks are expected to continue. U.S. officials say that Russia has attacked forces opposed to Assad that aren't part of Islamic State, also known as Da'esh.
In a joint declaration on Friday, the U.S., France, Saudi Arabia and four other nations condemned Russia for the strikes, which they said "led to civilian casualties and did not target Da'esh." The declaration called for Russia to "cease its attacks on the Syrian opposition and civilians and to focus its efforts on fighting" Islamic State.
Russia's entry into the conflict has confounded the Obama administration, which had been seeking to isolate Putin for annexing Crimea and supporting rebels in Ukraine.
A U.S.-led coalition of 65 countries has conducted more than 7,000 airstrikes against Islamic State targets in Iraq and Syria in the last year, according to the Defense Department.