Photographer: Shiho Fukada/Bloomberg
After struggling for more than a decade to secure land and financing, the Jena Band of Choctaw Indians was finally able to build its $30 million Pines Casino in Dry Prong, La., thanks to a high-priced loan from Och-Ziff Capital Management. More than half of the casino's profits go to Och-Ziff, the $46 billion hedge fund company run by ex-Goldman Sachs trader Daniel Och. After other creditors get their portion, the tribe is left with less than 10 percent of the take. Cheryl Smith, who has been chief of the Jena Band for 11 years, isn't complaining about the terms of the deal. "They came to our tribe when nobody else would and took a chance on us," she says. "With the little money we have gotten so far, we have done good things."
Over the past eight years, Och-Ziff has become one of the largest nonbank financiers to tribes, backing casinos and hotels in Oklahoma, Ohio, and California, as well as Louisiana. It also owns thousands of slot machines it leases to casino operators. Casino investments have helped one of the company's real estate funds produce returns of almost 23 percent annually from 2011 through June 2015, according to regulatory filings. About $250 million, a fifth of its invested real estate capital, is in tribal gaming. "We looked around at commercial real estate in 2006 and 2007 and saw it was overvalued," says Steve Orbuch, head of Och-Ziff's real estate group. "What we liked about tribal gaming was that it was a large marketplace with $25 billion a year in revenue, and yet it wasn't open for lending from traditional sources."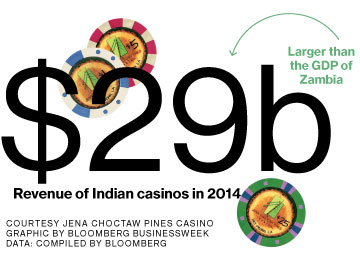 Och-Ziff's most valuable tribal relationship is with the 60,000-member Chickasaw Nation. The WinStar World Casino and Resort in Thackerville, Okla., is the Chickasaws' crown jewel. The largest casino in the world by number of gaming positions, it has about 7,500 slot machines and entertains 3.6 million visitors a year. The hedge fund helped finance the casino's expansion in 2007, making a name for itself as a funding source for tribes that couldn't get traditional loans. While Orbuch and Chickasaw officials declined to discuss specifics of their arrangement, bankers, consultants, and other tribes provided details of how nonbank lenders, including Och-Ziff, operate.
Och-Ziff offers loans with annual rates as high as 15 percent to be paid back in about five to seven years, according to people familiar with the deal. Since investors can't by law share in the equity of the businesses on tribal land or use buildings on reservations as collateral for debt, their only claims are to the revenue generated from gaming or other businesses.
About 40 percent of the recognized tribes have gaming operations, according to the National Indian Gaming Commission. Their revenues reached $29 billion last year, up from $121 million in 1988, the year Congress passed a law regulating gambling on Indian land. Yet Och-Ziff's gaming profits may be tough to sustain in the face of competition from other lenders, including some tribes, and a glut of casinos in some parts of the country. A federal investigation centering on whether Och-Ziff's dealings with a Libyan sovereign wealth fund violated the Foreign Corrupt Practices Act could crimp the firm's off-reservation gambling ambitions if the probe leads to legal action, according to half a dozen lawyers who specialize in gaming law. A spokesman for Och-Ziff, which disclosed the inquiry in a filing last year, declined to comment.
Some lenders have been burned. The giant Foxwoods Resort Casino in Connecticut, run by the Mashantucket Pequot Tribal Nation, defaulted on more than $2 billion of bonds in 2009 and spent almost four years restructuring its debt. Because U.S. bankruptcy law doesn't apply to sovereign nations, there was no bankruptcy judge to help streamline the negotiations. In February, Fitch Ratings said the tribe may be forced to restructure its debt again.
The bottom line: Indian casino investments helped an Och-Ziff fund return almost 23 percent from 2011 through June 2015.
Before it's here, it's on the Bloomberg Terminal.
LEARN MORE