China's Official Factory Gauge Stabilizes Near 3-Year Low
Bloomberg News
Manufacturing output climbed to 52.3 in September from 51.7

Caixin China factory index also remained at weak level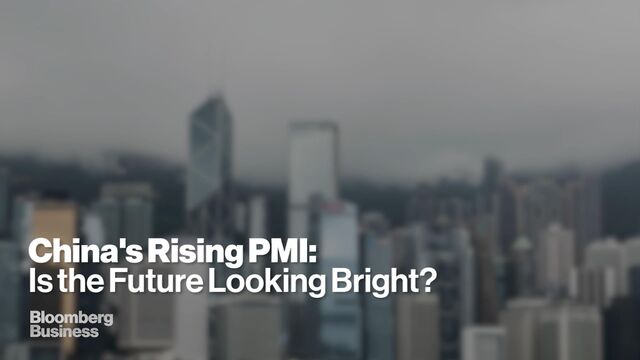 China's official factory gauge stabilized around a three-year low as government stimulus measures showed signs of steadying the weakness in manufacturing.
The official purchasing managers index climbed to 49.8 in September, the National Bureau of Statistics said Thursday, compared with the median estimate of 49.7 in a Bloomberg survey, which was also the level in August. Readings below 50 indicate contraction. A separate PMI gauge from Caixin Media and Markit Economics also showed improvement from its initial reading, with the final September number climbing to 47.2.
The reports signal that five central bank interest-rate cuts since November and the government unleashing new rounds of infrastructure spending are gaining traction, helping to cushion the world's second-largest economy. Still, excess capacity and factory-gate deflation are pressuring China's manufacturers, adding headwinds for the government's 2015 growth objective of about 7 percent.

"There are some positive signs in production and demand after all the pro-growth measures, but it's too early to call a bottoming-out," said Liu Xuezhi, an economist at Bank of Communications Co. in Shanghai. "PMI is still in the contraction zone, and over-capacity pressure remains huge for most Chinese industries. Overall economic growth is still weak."
Output climbed to 52.3 from 51.7
New Orders strengthened to 50.2 versus 49.7
Employment reading was unchanged at 47.9
"China's weak survey data suggest that additional policy easing is quite likely before year-end," William Adams, senior international economist at PNC Financial Services Group Inc. in Pittsburgh, wrote in a note. "Emerging market central banks see an opening to leave monetary policy looser for longer in the Federal Reserve's decision in September to defer an initial interest rate hike until closer to year-end."
While the Fed deferred raising rates at its September meeting, citing global risks to economic expansion, Chair Janet Yellen and other key U.S. policy makers have said the central bank will probably raise interest rates this year. The next decision will be Oct. 28.
The Australian dollar, seen as a proxy for China due to its raw material exports,  strengthened after the report, while the offshore yuan was little changed. Stock markets advanced from Australia and Japan, while equity exchanges in China and Hong Kong were closed Thursday for the National Day holiday.
Two straight months of manufacturing contraction and the decline in stocks suggest third-quarter growth probably slowed to 6.4 percent, while monetary and fiscal stimulus probably will help spur a rebound to 6.8 percent in both the fourth quarter and full year, according to a report from Li-Gang Liu, chief economist for greater China at Australia & New Zealand Banking Group Ltd. in Hong Kong. First-half growth was 7 percent.
September PMI readings have been higher in all but one of the past 10 years, and last month's matched the 49.8 from September 2012, data compiled by Bloomberg show. Thursday's reading remaining below the usual level for the month shows "relatively weak domestic and external demand," according to a statement released by NBS statisticians.
The government's non-manufacturing PMI reading for September was unchanged at 53.4, reflecting the relatively stronger performance of services industries throughout the economic slowdown. New export orders for services jumped to 51.1 from 46.6.
"China's economic transformation may take a longer time than previous estimates," said Li Wei, the China and Asia economist for Commonwealth Bank of Australia in Sydney. Downward pressure remains, Li added.