Buying a Diploma Is Easy if You Can Pay Up
Around the world, the sale of degrees is hurting economies.
By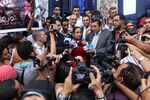 Mariam Malak, a 19-year-old from a village in southern Egypt, had near-perfect grades in high school and dreamed of becoming a doctor. But when the results of the nationwide graduation exam were released in July, the honor student was told she had scored zero, failing to answer a single question on all seven tests she took.
Malak has another theory: Her test papers were swapped for those of someone who paid a bribe or used connections to get a high score. The government says it analyzed the handwriting on the exam papers where she had gotten zeros and concluded she wrote them. Undeterred, Malak is seeking a court order for an independent handwriting review. "We are fighting this on behalf of all students who have suffered injustice in the Egyptian educational system," says her lawyer, Ihab Ramzi. "This case is just an example of the rampant corruption inside the Ministry of Education." The ministry didn't respond to calls from Bloomberg.
Malak is now a heroine to Egyptians fed up with bribery and nepotism. Tens of thousands of people have posted messages of support on Facebook and on an "I Believe Mariam Malak" Twitter feed. Celebrities are offering to pay her tuition at a foreign university. Egypt ranks a below-average 94th among 175 nations worldwide in an annual survey by the anticorruption group Transparency International. Some 67 percent of Egyptians surveyed by the group in 2013 said the education system was corrupt. "Corruption can be found at all levels of education systems" in scores of countries worldwide, Transparency International wrote in its 2013 report, citing everything from bribes to teachers to faked test scores and bogus dissertations.
Corrupt schools not only hurt bright students whose families can't or won't pay bribes, they also cause widespread economic harm, says Stephen Heyneman, an emeritus professor at Vanderbilt University and former World Bank official who has studied corruption in education. Income inequality is an obvious result, as poorer students are denied a shot at credentials that could help them move up the ladder. Heyneman, who has studied the topic in the former Soviet republics in Central Asia for the past decade, says some multinationals operating in the region give special tests to job candidates to separate legitimate graduates from "those who bought their degrees" from corrupt local institutions. Candidates who pass the tests get placed in extended apprenticeships to verify their skills. Because such screening is expensive, many companies try to avoid hiring locally and bring in expatriates for key positions, limiting opportunities even for well-qualified graduates.
Students who get degrees through bribery or nepotism can likely land a job with a government agency or company in their country. That's the case in Ukraine, says Ararat Osipian, a U.S.-trained Ukrainian economist who studies educational corruption there. "We have public servants who cannot manage simple paperwork," he says. Bright but less affluent young people often end up in menial jobs, Osipian says. "It's a terrible waste of human capital."
Wasteful, and maybe even life-threatening. The head of Bogomolets National Medical University in Kiev was removed last year after he was accused of accepting bribes to inflate student grades and for handing out medical degrees to the unqualified. The U.S. and European Union nations don't recognize Ukrainian medical degrees.
In 2011 several administrators at the Pirogov Russian National Research Medical University in Moscow were removed after government inspectors discovered that two-thirds of more than 700 slots for full-scholarship students were filled by "ghosts," who either didn't exist or hadn't applied to medical school. The slots, intended to be tuition-free, were then sold to applicants for up to $14,000. Andrei Kamkin, a physiologist who was named rector after the scandal, told the RIA Novosti news agency last year that he fired professors who took bribes and expelled students who had been allowed to retake exams numerous times until they passed. "We realized the danger of letting ignorant students graduate and become doctors," he said.
Raising educators' salaries, often seen as a way to reduce bribery, may not help once corruption has taken root, says Izhak Berkovich, an education professor at the Open University of Israel. In a study published in September, Berkovich compared fourth graders' scores on an international math and science exam in 45 countries. The lowest scores, he found, tended to be in countries that were ranked by Transparency International as relatively corrupt but that also had relatively high per capita spending on education. Injecting money into a crooked education system, he wrote, is like pouring fuel on a fire: "Institutionalized corruption is likely to spread."
In some countries, including some in Central Asia, Heyneman says, even the best students have trouble pursuing advanced degrees or getting jobs abroad. "Their graduates have a poor reputation," he says. "Their professionals aren't trusted."
—With Salma El Wardany and Ahmed Feteha
The bottom line: Corruption in education can weaken a country's economy, worsen income inequality, and produce unqualified doctors.
Before it's here, it's on the Bloomberg Terminal.
LEARN MORE