Ben Carson More Than Keeps Pace, Raising $20 Million in Q3
The retired neurosurgeon, who has never held elected office, is the envy of many candidates who have.
By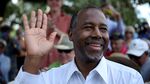 Ben Carson, the retired pediatric neurosurgeon who has ridden a wave of anti-Washington sentiment to the top tier of the Republican primary field, raised more than $20 million in the third quarter, according to his campaign.
Along with real estate developer Donald Trump and former technology executive Carly Fiorina, Carson has spent much of the last month near the top of national and early primary state polls, and has collected more than $31 million since he set up a presidential exploratory committee in March.
The staggering haul for a candidate who has never held elected office has come from more than 600,000 donations from more than 350,000 donors—an example of grassroots fundraising reach that has placed his campaign's finance operation in an enviable position.
Carson's robust fundraising during the historically slower summer months underscores the appeal of a candidacy that was built with little reliance on the outside groups that have come define much of this campaign cycle's fundraising operations. Raising the vast majority of his money through his campaign, as opposed to through super political action committees or non-profit groups, gives Carson the type of cushion that former candidates like Rick Perry, the former Texas governor, and Wisconsin Governor Scott Walker lacked in the waning days of their respective campaigns.
Carson ranked second, at 13 percent, in the USA Today/Suffolk University national poll released Wednesday and has consistently polled within single digits of Trump, the GOP front-runner. Carson has ridden a biography defined by a rise from poverty to become one of the premier surgeons in the world to his early campaign success. His appeal within the Republican base, even amid comments that have drawn scrutiny, including his statement that he wouldn't support a Muslim for president, has proven steady in recent weeks.
His team's fundraising strategy relies heavily on low-dollar donations—Carson has only recently expanded his fundraising to higher-dollar affairs—and benefits from the hundreds of speeches and appearances at Tea Party, evangelical Christian, and pro-life events in the 18 months leading up to the launch of his campaign. Those donors also form the base of the Carson operation's plans to ride his base of support to successful showings in early nominating contests in Iowa, New Hampshire, and South Carolina.