Diamond Trafficking Fuels Central African Republic Violence
by and
Gems bought without full probing of origins, Amnesty says

Diamonds' extraction may have involved child labor, tax abuse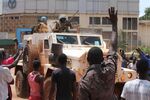 Illicit trafficking of diamonds in the Central African Republic has helped finance a more than two-year conflict, which has flared up again as the fiercest bout of fighting in the capital in a year has left more than 50 people dead, Amnesty International said.
Traders who have bought diamonds worth "several million dollars" failed to investigate if the beneficiaries are armed groups who carry out executions, rape and looting, the London-based rights group said Wednesday in a report. Local companies could soon begin exporting stockpiled gems that may have been mined by child laborers and avoided taxes.
"The international community is not doing what it needs to address what's happening in CAR," Lucy Graham, a legal adviser at Amnesty, said by phone.
Bangui has been paralyzed by clashes less than a month before elections meant to restore stability after the ouster of President Francois Bozize by anti-government militias in March 2013, leading to retaliatory attacks. A spike in violence began Sept. 26 after a Muslim man was found killed, sparking a march on the presidential palace that was dispersed, the looting of buildings and a breakout at the central prison.

Airport Clashes
Members of the Christian anti-balaka militia tried to occupy Bangui's airport on Tuesday to prevent interim President Catherine Samba-Panza's plane from landing as she rushed home from the United Nations General Assembly in New York, Andre Poto, a spokesman for displaced people in a camp near the airport, said by phone. Troops pushed back the militants and stray bullets killed six civilians, he said.
"This is the worst outburst of violence in Bangui since October 2014 and shows that UN peacekeepers, French troops and CAR's national forces continue to struggle to control the situation," Evan Cinq-Mars, an advocacy officer at the New York-based Global Centre for the Responsibility to Protect, said by e-mail.
Trade in Central African Republic diamonds was banned in May 2013 after the Kimberley Process, which seeks to halt the sale of gems from war zones, said there was no way to determine whether so-called conflict diamonds had been eliminated from shipments.
The country was ranked as the world's 10th-biggest diamond producer by value in 2012, according to the U.S. Geological Survey. The Kimberley Process estimates diamond output was worth more than $60 million in both 2011 and 2012.
Diamond Shipments
The International Peace Information Service, an Antwerp-based research group, says about 30 percent of the country's diamond shipments and 95 percent of gold leaves the country secretly.
The Kimberley Process hasn't stopped armed groups from profiting from diamonds and using them to finance their violence, Graham said. International traders and hubs need to use greater due diligence when buying and selling the gems, while stricter laws and penalties need to be in place to stem blood diamonds, Amnesty said in the report.
"CAR remains in a very fragile state," Graham said. "The UN peacekeeping force needs to be enhanced and people need to be held to account for violence."
The country's presidential vote, scheduled to be held on Oct. 18, may be postponed for a second time because of a lack of funds and persistent insecurity, the election authority said earlier this month. Most political parties are opposed to a delay, Joseph Bendounga, a spokesman for an opposition coalition, said at the time.
Before it's here, it's on the Bloomberg Terminal.
LEARN MORE