politics
The Man Behind the Planned Parenthood Videos Is Already Satisfied
David Daleiden, a 26-year-old Catholic from California, worked for 30 months to spark a national debate on abortion.
By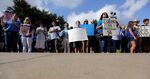 Though public opinion on Planned Parenthood has not shifted as a result of the sting videos David Daleiden spent two and a half years making, the anti-abortion activist said in a rare phone interview last week that the results have still far exceeded his expectations.
"I've been floored by how much traction they've gotten," Daleiden said of the tapes, which he says show illegal trafficking in baby body parts and which Planned Parenthood defends as perfectly legal tissue transfers for research. "I knew it would be big, but not 10-presidential-candidates-talking-about-it-in-the-first-24-hours big."
Daleiden is a 26-year-old Catholic from California who has been involved in anti-abortion activism since he was in high school. To the observation that abortion rights supporters seem to have uniformly written the tapes off as dishonest and discredited, he says this: "It's straight-up denialism." But, he says, he understands that reaction since when he first heard that clinics were selling fetal organs for research, "my reaction was like a lot of people: 'What? That's got to be something that happens once in a blue moon.' When there are places where every day they're harvesting late-term babies." 
On Tuesday morning, Planned Parenthood President Cecile Richards is testifying before the House Oversight and Government Reform Committee about allegations that the organizations profits from the sale of organs and whether the process involves partial birth abortion, a banned procedure. Planned Parenthood denies both, and Richards is trying to shift blame to Daleiden.
"It is clear that they acted fraudulently and unethically—and perhaps illegally," Richards said in her prepared remarks. "Yet it is Planned Parenthood, not Mr. Daleiden, that is currently subject to four separate congressional investigations."
(Bloomberg Philanthropies provides financial support for Planned Parenthood.)
Though Daleiden said he has gotten a few threats in the almost three months since he began releasing the tapes, he says "there's been less of that than I expected."
The only time he's aware of having been recognized in public, he says, was when he and some friends "rented a cabin in this mountain town and we were all doing karaoke" in a bar "and two people came up and said, 'Are you that guy who was on Fox News with the baby parts?'" They were friendly, though, he said. 
Nothing that's happened since he released the tapes, he said, is half as difficult as his life was while he was working on the undercover project, in the 30 months before they were released this summer. During all that time, he was out of touch with many of his pro-life friends while pretending to be an employee of a biological sample procurement company specializing in tissue for stem-cell research.
These days, "I'm in good spirits," he said, and sounded it.
During the project, he said, he cried and had nightmares over what he was hearing and seeing in clinics. "We did not see somebody kill—do an abortion in front of us," though, he said. "That never happened."
Didn't pretending to be someone he isn't make him nervous, particularly during the surreptitiously taped interviews? "There's definitely a component of nervousness—I would call it stage fright—but any good performer or even public speaker will tell you that's good; I learned in speech" in school to "manipulate" that fear, he said, and use it to his advantage.
While a number of Republican presidential candidates have argued for defunding Planned Parenthood, and even shutting the government down over the issue, the public does not agree. In a Bloomberg Politics national poll conducted Sept. 18-21, 59 percent of U.S. adults disagreed that federal funding for Planned Parenthood should be cut. 
The group receives about one-third of its annual revenue, or about $450 million, from federal sources. Of that amount, about $390 million is provided from Medicaid. By law, none of those funds can be used for abortion services, though opponents like Daleiden have always argued that funds used to keep the lights on still free up money for those services.
Obviously, it would take a lot to change public views of Planned Parenthood, and not just among Democrats. Donations to the breast cancer charity Susan G. Komen for the Cure dropped 22 percent in the year after Komen briefly decided to stop giving Planned Parenthood grants for breast exams. Planned Parenthood affiliates reported performing 327,653 abortions last year—about a third of all of the 1 million terminations performed annually in the United States. 
When Daleiden's friend and former colleague, the Live Action anti-abortion activist Lila Rose, was asked in an interview what she made of Planned Parenthood's status as a beloved institution, she laughed and said, "If I had $30 million a year to spend, we could be very beloved! They have $20 million a year for marketing, and $1.5 million for 'brand refreshment.'" (Actually, again according to PP's own numbers, they spent just under $15 million "to build advocacy capacity," $24.7 million to "engage communities," $3.6 million to "renew leadership," and $1.8 million to freshen the brand.) 
Most media reports refer to tapes as "fraudulent," "heavily edited," "doctored" or even "fabricated," though the "forensic report" ordered by Planned Parenthood says it found no "substantive video manipulation" and "no evidence of audio manipulation."
"While these analysts found no evidence that CMP [Daleiden's group, the Center for Medical Progress] inserted dialogue not spoken by Planned Parenthood staff," the report said, "their review did conclude that CMP edited content out of the alleged 'full footage' videos, and heavily edited the short videos so as to misrepresent statements made by Planned Parenthood representatives."
Daleiden says the camera was only turned off when those being interviewed weren't present, for example during bathroom breaks, while Planned Parenthood and its supporters ask what those breaks might be hiding. To which Daleiden answers, "For two and a half hours we have their top medical director talking about selectively crushing organs. Is there a 30-second clip somewhere that's going to make the two and a half hours OK?"
As for gaining access under false pretenses, he says critics "don't seem to raise those objections when PETA does undercover work on factory conditions." 
Asked if he regrets putting so much emphasis on the alleged illegality of what's on the tapes, instead of arguing that what's there is shockingly legal, he said, "that's all part of the conversation" there will be plenty of time to have now, as four different Congressional committees investigate.
"Baby-parts trafficking is really complex and multi-layered," he said, so any fair and full investigation is going to take time. But his job is mostly done, even if "we're talking about, 'Is there going to be a season finale?'"
Before it's here, it's on the Bloomberg Terminal.
LEARN MORE