Obama Shakes Hands With Zarif in Step Toward Better U.S.-Iran Relations
By and
Similar gesture with Rouhani for now is out of the question

Rouhani and Obama spoke by phone for first time two years ago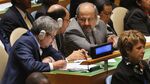 In the end, the handshake happened. Just not with Hassan Rouhani.
In the lead-up to the United Nations General Assembly, speculation ran rife about whether President Barack Obama and his Iranian counterpart would cap the success of a nuclear deal by shaking on it. In the end, it was Foreign Minister Mohammad Javad Zarif who savored the historic gesture, according to a U.S. Administration official who asked not to be identified, citing the sensitivity of the issue.
On July 14, the Islamic republic and six world powers ended a 13-year standoff over its nuclear program. U.S.-Iran ties had improved although there was "still a long road to travel" before the two estranged nations could resume anything resembling normal relations, Rouhani told a group of senior media editors on Sept. 25.
"The situation has certainly changed," said Rouhani. "We can point to the tangibles, the many steps forward, but there is still a long road to travel."
So, what's in a handshake? A seemingly routine act can mean more than words in the realm of diplomacy, especially among former foes. Think Richard Nixon and Mao Zedong. Or Israeli Prime Minister Yitzhak Rabin and Yasser Arafat.
Chatter about such a moment taking place between Obama and Rouhani began to surface in 2013, when the election of the Iranian cleric signaled an opening to the U.S. That year's UN gathering brought the two men in close proximity but resulted in a phone call instead. Still, it was the first contact between the U.S. and Iran at that level since the 1979 Islamic Revolution.
That outreach caused an uproar back in Tehran. On his return, Rouhani was pelted with eggs by militant groups who oppose any rapprochement with the U.S., and Iran's Supreme Leader Ali Khamenei said the phone call was a mistake.