U.K. Labour Names Stiglitz, Piketty to Economic Advisory Panel
Robert Hutton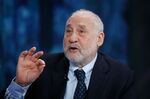 Nobel Prize-winer Joseph Stiglitz and Thomas Piketty, the author of the bestselling "Capital in the 21st Century," will serve on a panel of advisers to the U.K. Labour Party as it seeks to bolster its economic credibility.
They'll be joined by David Blanchflower, a former member of the Bank of England's Monetary Policy Committee, Mariana Mazzucato of Sussex University and Anastasia Nesvetailova and Ann Pettifor of City University in London, the main opposition party said in an e-mailed statement Sunday as it began its annual conference.
Jeremy Corbyn, who won the Labour leadership two weeks ago on an anti-austerity platform, faced criticism for appointing his friend John McDonnell, a critic of Bank of England independence, as his economic spokesman. They have since tried to send reassuring signals, with McDonnell telling the Guardian newspaper in an interview published Saturday that Labour would sign up to Chancellor of the Exchequer George Osborne's fiscal charter to reduce debt as a proportion of gross domestic product.
"I am delighted to convene this Economic Advisory Committee that will assist in developing a radical but pragmatic and deliverable economic policy for our country," McDonnell said Sunday in Labour's statement. "Our Economic Advisory Committee will assist in developing a fairer and more prosperous economic alternative based upon investment and growth which reaches all sections of society."
Piketty described Corbyn's election as "a brilliant opportunity for the Labour Party to construct a fresh and new political economy which will expose austerity for the failure it has been in the U.K. and Europe."
Before it's here, it's on the Bloomberg Terminal.
LEARN MORE