Obama to Meet Cuba's Raul Castro on Sidelines of UN Meeting
By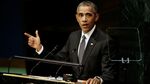 President Barack Obama and Cuban President Raul Castro will meet one-on-one Sept. 29 during the annual United Nations General Assembly, the White House said Sunday.
Cuba and the U.S. restored diplomatic relations earlier this year after Obama and Castro announced plans in December to begin improving ties strained by a five-decade long embargo. Earlier this month, the Obama administration issued rules making it easier for U.S. businesses to operate in Cuba.
Castro is attending his first UN General Assembly meeting. The two leaders saw each other in April at the Summit of the Americas meeting in Panama. Obama spoke by phone with Castro on Sept. 18 after the business rules were released.