John Boehner Decries 'False Prophets' in Republican Party
The speaker unloads on those who promise what can't be delivered.
By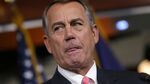 Outgoing U.S. House Speaker John Boehner took aim at hardliners in his Republican Party whom he likened to "false prophets" who promise more than they can deliver on issues such as cutting off federal funding for Planned Parenthood.
Appearing Sunday on CBS's Face the Nation in his first interview since announcing he would resign from Congress at the end of October, Boehner was asked by host John Dickerson whether some in his party were "unrealistic about what can be done in government."
"Absolutely, they're unrealistic!" Boehner exclaimed. "But, you know, the Bible says beware of false prophets, and there are people out there spreading noise about how much can get done."
Boehner's tenure as speaker has been marked by regular clashes with hardline conservative Republicans who oppose compromise on a host of issues. Boehner cited the 2013 government shutdown that was centered on the prospect of defunding the Affordable Care Act—also know as Obamacare—as another example of unrealistic, wishful thinking. 
"This plan never had a chance," Boehner said.
Still, the Ohio Republican said that outside groups were also to blame for stoking quixotic hopes among the far right. 
"We got groups here in town, members of the House and Senate here in town, who whip people into a frenzy believing they can accomplish things that they know—they know!—are never going to happen."
Boehner didn't name those in Congress by name whom he believed most guilty of stoking a false sense of empowerment, including Texas Senator Ted Cruz, who led the charge in the 2013 government shutdown. 
"Listen, you can pick a lot of names out; I'll let you choose 'em," Boehner said.
While Boehner's resignation was cheered by Republican presidential candidates like Cruz, billionaire Donald Trump, and Florida Senator Marco Rubio, not everyone is happy to see him step down.
"I admire John Boehner greatly, he's a great public servant," former Florida Governor Jeb Bush said on Fox News Sunday, adding, "I think people are going to miss him in the long run because he's a person that is focused on solving problems."
Even Democratic presidential candidate Bernie Sanders offered a measure of sympathy for the balancing act Boehner had to attempt. 
"Well, John has had an impossibly difficult job trying to reconcile the conservative wing of his caucus with the extreme, extreme right wing of his caucus that really will not do anything and pass any legislation that Barack Obama will sign," Sanders said Sunday on CBS's Face the Nation. "It's an impossible job. And I admire John for his tenacity and hanging in there for five tough years."