Obama Welcomes Xi Vowing Cooperation to Shape New Century
By and
Cybersecurity at top of U.S. agenda for White House meetings

Xi seeking recognition of China's status as world power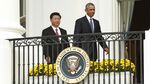 President Barack Obama and Chinese President Xi Jinping began a day of talks at the White House to work through an agenda of disputes, primarily U.S. complaints about China's behavior in cyberspace, and to look for ways the world's two biggest economies can cooperate to shape global affairs. 
After a private dinner Thursday night, the two leaders engaged in the more formal ceremonies surrounding Xi's state visit to the U.S., including a round of discussions at the White House Friday morning and a joint news conference at noon.
Both sides are seeking to present an image of cooperation between the world's two largest economies. For Xi, the visit is about recognition of China's status as a world power. Obama is seeking to make good on his promise to pivot the U.S. focus to Asia while also registering U.S. concerns about cybersecurity and economic policy as well as territorial conflicts between China and U.S. allies.
"I believe, and I know you agree, we must address our differences candidly," Obama said in remarks welcoming Xi to the White House. But, he said, "our two great nations, if we work together, have an unmatched chance to shape the next century."
Xi said China wants to enhance "strategic trust" between the two nations.
"For further growth of our relations, we have no choice but to seek win-win
cooperation," Xi said through a translator as the two men stood on the South Lawn of the White House.
As a demonstration of cooperation, the U.S. and China plan to issue a joint statement on climate change in which China announces it will start a national pollution-trading system to cut global warming emissions and make a substantial financial commitment to help poorer countries move away from fossil fuels, according to U.S. officials.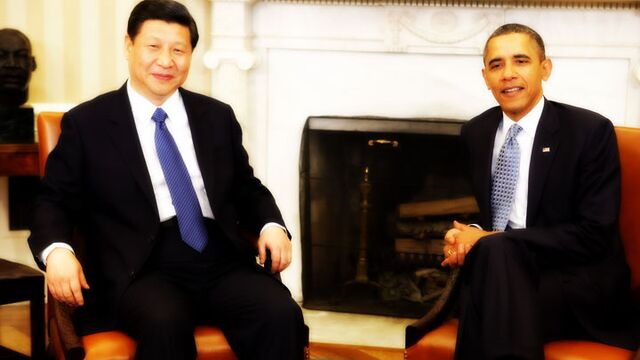 Climate Talks
The actions are a follow-up to last year's agreement, unveiled by Obama and Xi in Beijing, that commits China and the U.S., the world's No. 1 and 2 greenhouse polluters, to emissions limits. That agreement gave fresh momentum to United Nations-sponsored climate talks that are moving toward a conclusion in Paris in December.
Still, the U.S. has a growing list of complaints on issues such as easing restrictions on U.S.businesses operating in China, currency policy, a maritime dispute in the South China Sea, and human rights.
The top issue from the U.S. standpoint is the hacking of corporate computer systems to steal trade secrets or gain economic advantage. Obama and his top aides have repeatedly raised the prospect of U.S. sanctions if concerns over hacking aren't adequately addressed.
"It is clear that China now understands just how seriously we take this issue," White House press secretary Josh Earnest said Thursday, before Xi's arrival.
Xi has denied that the Chinese government supports cyber-attacks for commercial purposes. He said in Seattle that China was ready to establish a "high-level, joint-dialogue mechanism" with the U.S. to address the cyber issue.
Cyber Framework
Obama has said he wants a framework with China that would govern behavior in cyberspace. National security officials from both countries have met in recent weeks to discuss an accord. The administration has drawn a distinction between hacking for economic gain and traditional espionage.
The two countries had high-level exchanges on cyber-issues that were suspended after the U.S. indicted five Chinese military officials last year on charges that they stole trade secrets from companies including Westinghouse Electric Co. and United States Steel Corp. China has denied engaging in economic espionage.
As important as the formal talks and Friday night's state dinner are, Thursday night's private dinner between Obama and Xi may have a bigger influence on the amount of progress made.
Recounting previous private dinners between Obama and Xi -- in California in 2013 and last year in China -- Ben Rhodes, Obama's deputy national security adviser, said the two leaders typically set aside their talking points and have frank, free-wheeling discussions that later result in policy.
Private Dinner
"The most constructive engagements were when they were able to talk for several hours over dinner without a formal agenda," Rhodes told reporters in a conference call on Sept. 22. "Starting with that private dinner is very important."
Obama will press Xi on China's economic policy, which has drawn growing U.S. concern in recent months. The Chinese government's move to prop up shares in its stock market, devalue its currency and raise barriers for U.S. companies "distorts the global economy," National Security Adviser Susan Rice said Sept. 21 in a speech at George Washington University, previewing Xi's visit.
Obama may try to persuade Xi to back away from two draft laws under consideration in China that would crack down on foreign non-governmental organizations and U.S. technology firms in the banking sector.