Pope in New York Praises Contributions of Nuns to the Church
By and
Pope traveled from Washington, where he addressed Congress

Francis challenges U.S. to ensure fair distribution of wealth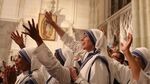 After urging Washington lawmakers to do more to overcome poverty, Pope Francis arrived at the seat of capitalism to a school band playing the theme song from the Martin Scorsese movie "New York, New York."
Dignitaries greeted the leader of 1.2 billion Roman Catholics at John F. Kennedy International Airport before the pope flew by helicopter to Manhattan, where he led evening prayers at St. Patrick's Cathedral. 
A somber Francis began his address to members of the clergy by expressing his solidarity over the "tragedy" near the Saudi holy city of Mecca, a reference to the crushing of more than 700 people, the worst such disaster at the Hajj pilgrimage in a quarter century.
He drew long applause when he expressed "my esteem and gratitude to the religious women of the United States." He added: "What would the Church be without you?" On Friday, he's to speak to the United Nations General Assembly.
Never Forget
During the service, Francis made a veiled reference to the sex-abuse scandals that so damaged the church's standing in the U.S. He told members of the clergy he knew they had "suffered greatly in the not too distant past by having to bear the shame of some of your brothers who harmed and scandalized the Church in the most vulnerable of her members."
Echoing the compassion he expressed before the U.S. Congress, Francis urged his audience to be close "to the poor, the refugee, the immigrant, the sick, the exploited, the elderly living alone, prisoners and all God's other poor."
Earlier in the day, in a speech to a joint meeting of the House and Senate, Francis saved his strongest language for the plight of immigrants and refugees, calling on lawmakers to reject "a mindset of hostility" and resist the temptation to look away. In the Americas, he said, thousands travel north to seek a better life.
"Is this not what we want for our own children?" asked Francis, who became the first pope to address Congress. "We must not be taken aback by their numbers, but rather view them as persons, seeing their faces and listening to their stories, trying to respond as best we can to their situation."