Marco Rubio Is Missing Opportunities, New Hampshire Republicans Say
One of the party's most dynamic speakers hasn't been as active in key states as his rivals.
By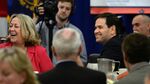 Earlier this year, as former New Hampshire House Speaker Donna Sytek began considering which Republican presidential candidate to back, U.S. Senator Marco Rubio was at the very top of her list. The charismatic Floridian was also a favorite for Wayne MacDonald, the former Republican Party chairman in the state.
Now, Rubio isn't in Sytek's top five. MacDonald? He's chairman of New Jersey Governor Chris Christie's presidential campaign in New Hampshire.
"I brought my husband to see Marco speak at a GOP confab in the spring, and then he didn't come back to New Hampshire for a long time," Sytek said in an interview, explaining why she no longer considers Rubio a top choice. "The others came into everyone's living room, to the VFWs, and you say, 'Is he taking this seriously?' We just haven't seen him lately."
MacDonald came to a similar conclusion before ultimately backing Christie, who has been to New Hampshire more than 20 times in the past two years. "He just hasn't been campaigning," MacDonald said about Rubio. "There are some underlying issues about whether people can see him being president, but back in May it seemed like he had some real ability to get traction. Then he didn't show up."
News reports in the past 24 hours suggest this is part of Rubio's strategy. J. Warren Tompkins, who runs a pro-Rubio super-PAC, told the Washington Post that "it takes a lot of discipline" to avoid peaking before February and March, when primary voters start casting their ballots. Politico quoted Rubio campaign manager Terry Sullivan saying the strategy was to wait out the rest of the field.
"We need everybody not named Marco to fizzle," Sullivan said at an event in Washington on Monday. "That is the plan."
The wisdom of that strategy seems to be lost on folks in New Hampshire like MacDonald and Sytek. They're not only two of the 150,000 Republicans who will vote in the nation's first presidential primary; they're influential politicians in a state where personal connections and word-of-mouth matters. Sytek is the first woman to be speaker of the New Hampshire House, and MacDonald was the vice-chairman of Senator John McCain's successful 2000 campaign in the state.
Both are publicly voicing what party operatives in the state are privately discussing: Their disbelief that Rubio has largely ignored a state that once looked like a top priority. While Rubio's campaign says its trying to avoid becoming flavor-of-the-month, his relatively light schedule in New Hampshire, Iowa, and South Carolina is raising questions about whether he'll have the infrastructure in place to seize opportunity when and if it comes his way.
Rubio was fourth in CNN's national poll released on Sept. 20, up from seventh in the same poll 10 days earlier. A poll released Wednesday by the Fort Lauderdale Sun-Sentinel showed Rubio second in his home state, ahead of former Florida Governor Jeb Bush and trailing only billionaire Donald Trump. A Bloomberg Politics national poll taken after last week's Republican presidential debate showed Rubio running fifth, with support of eight percent of Republican voters. The same poll suggests he could ignite however. Republicans polled gave Rubio the highest favorability rating of their party's presidential contenders: 60 percent.
Rubio campaign spokesman Alex Conant said Rubio has been in New Hampshire as much as other early states. "We believe we can win New Hampshire in February and will be there a lot this fall," Conant wrote in an e-mail.
Rubio has visited New Hampshire nine times since the 2012 presidential election, including four times before his campaign announcement in April. That's less than the number of visits racked up by than nine other Republican presidential candidates, including Trump, Jim Gilmore, and George Pataki, according to p2016.org, a website that tracks presidential campaign events. Rubio canceled one event in July due to illness.
He'll be back New Hampshire in October as one of several candidates scheduled to speak to the Republican Liberty Caucus convention in Nashua.
Rubio has visited Iowa seven times since announcing his campaign, and will meet hold a town hall on Thursday in Davenport. The Floridian has also visited South Carolina six times since he launched his presidential campaign.
One Rubio campaign insider, who requested anonymity because he's not authorized to speak for the campaign, confirmed that New Hampshire Republicans have been grumbling about not seeing Rubio as much as they hoped, and explained that Rubio's focus on fundraising has cost the candidate time on the campaign trail. 
Bob Pence of Virginia, a Republican donor backing Rubio, said there will be plenty of time for campaigning. "It's not like he's out playing golf, or building a new hotel," Pence said. "Everything is in life is a question of prioritizing. I think he' s got a good balance. His focus is where it needs to be."
The first-term senator won rave reviews after the first presidential debate, but, unlike his rivals Ben Carson and Carly Fiorina, was unable to translate that performance into positive movement in the polls.
Rubio was again praised for a strong showing in the second debate, and is seen by many as potentially the biggest beneficiary from Wisconsin Governor Scott Walker's decision this week to end his campaign due to slow fundraising and collapsing poll numbers. The Wall Street Journal reported that two-thirds of Walker's fundraising operation is moving to Rubio.
That hasn't generated much buzz in New Hampshire.
"No one is talking about Rubio right now," said Charlie Bass, a former U.S. representative whose district covered the western and northern parts of New Hampshire. Bass said he's neutral in the presidential race, and stressed that he wasn't being critical of Rubio.
"He just hasn't been up here," Bass said. "He's not running a bunch of town hall meetings like Kasich and Christie, and that's how the process works here."
That assessment is somewhat ironic for Rubio. The 44-year-old was attacked last week by Donald Trump for having the "worst voting record there is today" in the Senate. Rubio has missed the most votes of any of the four U.S. senators running for president. At last week's debate, Rubio deflected the criticism by complaining that "the political establishment in Washington D.C. in both political parties is completely out of touch with the lives of our people."
"That's why I'm missing votes, because I am leaving the Senate," Rubio said. "I'm not running for re-election and I'm running for president, because I know this: Unless we have the right president, we cannot make America fulfill its potential."
Rubio's campaign is betting that he has plenty of time to fulfill his own. 
—With assistance from Sahil Kapur in Washington.