Pope Francis to Face Divided Congregation From Congressional Pulpit
By and
Historic address seen as chance to speak to all Americans

U.S. lawmakers split over abortion, poverty, immigration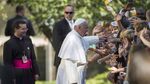 Pope Francis will preach to a less-than-harmonious congregation when he faces a U.S. Congress riven by disputes over issues closest to his heart: income inequality, immigration and climate change.
For the first Latin American pope, this is a chance "to speak to all Americans through their representatives, and not just to Catholics," according to his spokesman, Father Federico Lombardi. With his speech Thursday, Francis will become the first pontiff to address Congress -- which is mired in a dispute over abortion that threatens to shut the government.
His positions on the environment, immigration, capitalism, poverty and Cuba might ring out of tune with many conservative lawmakers. Other members may be taken to task for supporting abortion rights and same-sex marriage.
"Francis is probably a bit nervous, because he's never been to the U.S. before, and he's starting at the top, the White House and Congress," said church analyst John Thavis, author of The Vatican Prophecies. "Already he knows there is opposition to the kind of social gospel he's preaching, so he has to very carefully adopt a tone that is inspiring and challenging, but without coming across as accusatory or lecturing. Not an easy thing."
Even with the humility he has stamped on the papacy -- he will pull up to the Capitol in his small Fiat 500L-- Francis isn't afraid to "take on the status quo," according to House Speaker John Boehner, an Ohio Republican and a Catholic.
Crowds Arriving
The Argentine Francis will speak, in English rather than his native Spanish, to an audience including Cabinet members and Supreme Court justices.
Thousands of people began streaming through security lines shortly after 5 a.m. Thursday with tickets to watch the Pope's address to Congress on giant video screens on the Capitol lawn. The crowd -- including guests of House leadership, Roman Catholic priests and nuns and members of the public -- will see the pope appear on a Capitol balcony after the address.
On Wednesday, Francis plunged into politically divisive issues such as climate change and immigration at a White House welcoming ceremony rich in pageantry. He backed President Barack Obama's drive to cut fossil-fuel emissions and invoked the "right to religious liberty" in a thinly veiled reference to differences with the administration on abortion rights, contraception and same-sex marriage.
Fewer than a third of the 535 members of Congress are Catholic, according to the Pew Research Center. But members know Francis's messages of forgiveness and inclusiveness carry moral authority and that he is more popular than Congress, which has Gallup Poll approval ratings consistently below 20 percent.
Abortion Dispute
The pope's address coincides with a congressional battle over abortion. Some House Republicans are pushing to shut down the government starting Oct. 1 unless lawmakers agree to use a spending bill to strip federal money from Planned Parenthood, the women's reproductive health service.
Undercover videos purported to show Planned Parenthood officials discussing reimbursement for providing fetal tissue for medical research. Most Democrats insist on continued funding for the organization.
The pope hasn't relaxed the church's opposition to contraception or abortion, although his agenda of more compassion will allow priests next year to absolve the sin of abortion to those seeking forgiveness.
Congressional Democrats, who view the pope as an ally on issues including climate change and immigration, said they aren't worried about what Francis may say on abortion.
'Unite Us'
"Pope Francis is bringing people together with a message focused on tackling poverty, hunger and inequality," said Democratic Representative Jim McGovern of Massachusetts. "This pope is much more interested in focusing on the issues that unite us instead of those that divide us."
Joint meetings of Congress in the House chamber, including the president's annual State of the Union address, can be indecorous. Representative Joe Wilson, a South Carolina Republican, shouted "You lie!" during Obama's September 2009 speech to Congress after the president said his health-care plan wouldn't cover undocumented immigrants.
No one is expecting that kind of outburst at the pope, though some of his positions might not please some members of the Republican-controlled Congress.
Francis arrived in the U.S. Tuesday directly from Cuba, months after helping end a half-century of U.S. estrangement from the island nation -- a move many Republicans oppose.
Republican Representative Paul Gosar of Arizona, a Catholic, said he would boycott Thursday's speech because of the pope's views on climate change, accusing the pontiff of acting like a "leftist politician."