Scott Walker's Exit Puts Millions Up For Grabs
Republican contenders are circling the former candidate's war chest.
By and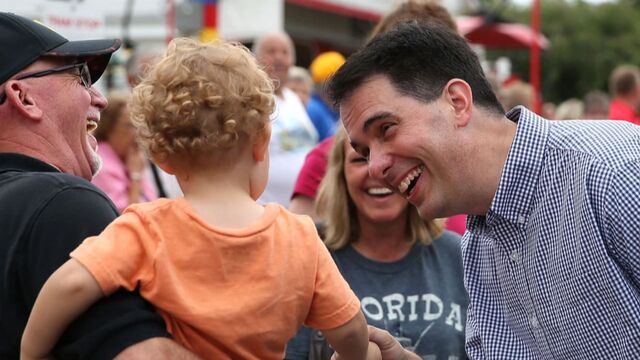 The collapse of Republican Scott Walker's bid for the White House has already sparked a race for the millions of dollars that had been pledged by wealthy donors to support the Wisconsin governor's run.
Rival campaigns have wasted no time. Chart Westcott, a biotech investor in Dallas who threw a fundraiser for Walker earlier this year and gave $200,000 to a pro-Walker super-PAC, said he got calls from officials or fundraisers from at least four campaigns as soon as the news leaked.
"You'd think they would at least wait until he made some sort of announcement," Westcott said. He said he won't decide whether to back another candidate in the Republican presidential primary for some time.
About half of the contributions to the largest independent group supporting Walker came from just two families, according to July filings with the U.S. Federal Election Commission. Roofing billionaire Diane Hendricks gave $5 million while Marlene Ricketts and her husband Joe—the founder of TD Ameritrade and head of the family that owns the Chicago Cubs—gave a combined $5 million. Richard and Elizabeth Uihlein, who own a shipping-supplies company based in Wisconsin, gave a combined $2.5 million.
Walker's departure follows former Texas Governor Rick Perry dropping out of the race on Sept. 11 as the large Republican field begins to shrink. Like Walker, Perry had amassed millions through an outside group from a few wealthy donors. 
"When someone drops out, just like happened with Perry, there's a mad dash to get those people, since you've got so many candidates still in the race," Westcott said.
Departures by Walker and Perry show that massive contributions from wealthy donors to outside groups aren't enough to keep a candidate's bid alive. The independent groups supporting Walker had raised a total of $26.23 million during the first half of the year. That put him behind former Florida Governor Jeb Bush's $114 million, Senator Ted Cruz's $52.18 million, and Senator Marco Rubio's $28.18 million. Those totals all include money raised by super-PACs supporting the candidates. Walker hadn't yet disclosed fund-raising amounts for his campaign committee. Campaigns, which can only accept donations up to $2,700 from individuals, aren't permitted to coordinate with the super-PACs that collect bigger checks, although many of the supposedly independent committees are run by long-time aides and advisors of the candidates they support.
According to Dennis Goldford, a political science professor at Drake University in Des Moines, Iowa, donors can quickly lose patience if a candidate doesn't perform. 
"While some donors are content to throw good money after bad, most are not. And Walker has paid the price for that," Goldford said.
Walker's performance in the Sept. 16 debate raised questions about whether he could ultimately survive. While he entered the race in July as the hero of conservatives for his confrontation with labor unions, his lead in Iowa polls had alredt fallen with the entry of billionaire Donald Trump. By Sept. 11, Walker's support in Iowa had fallen to just 3 percent, according to a Quinnipiac University survey. On July 1, Quinnipiac had him leading the field in Iowa with 18 percent.
Even before Walker announced his exit on Monday, signs of trouble were brewing. Walker super-PAC donor Stanley S. Hubbard, chairman of Hubbard Broadcasting in Minnesota, revealed in an interview posted earlier in the day on the Washington Post's website that, after last week's Republican debate, he'd given money to four of Walker's rivals: Rubio; Carly Fiorina, the former chief executive officer of Hewlett-Packard; Ben Carson, a retired neurosurgeon; and Chris Christie, New Jersey's governor.
Despite the challenges, some of Walker's supporters were caught off guard Monday. Eric Anton, a New York-based senior managing director at HFF Inc., a real estate company, was slated to be a co-host of a fundraiser for Walker in New York City on Thursday.
"All the millions he's got in his PAC can't help him," Anton said. "It feels like somebody just ran over my puppy."