Style
Reviled by Feminists, Tie-Neck Blouses Are Hip for Millennials
From fast-fashion to luxury retailers, the "dress-for-success" staple finally has its moment.
By and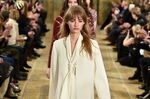 Tie-neck blouses, the centerpiece of the dress-for-success uniform that the first generation of women managers donned and often loathed in the 1970s, are a hot item for millennials.
Retailers from Express to Tory Burch and Macy's to Kering's Gucci are offering the blouses in an array of colors and say they're among this fall's best-selling items. The style is even making appearances on many menswear runways this year, with Gucci featuring the blouse in its fall 2015 men's show as both sexes crave newness in their outfitting.

"It's something new and exciting that women in their 20s and 30s haven't worn, and that's why they're embracing this so enthusiastically," said Marisa Jacobs, a spokeswoman for Express. "They are very popular with us as well as many other retailers."

On Express's website the shirts are called a "modest office essential," priced from $25 to $50 and offered in black, white, red, and pink, in long-sleeved and sleeveless styles. They're pictured on models walking through urban landscapes and paired with bell-bottom flared pants, jeans, miniskirts, and even shorts.
Radical Changes
That's a radical change from the past. In 1977, when The Woman's Dress for Success Book became a best-seller, author John T. Malloy advised women who wanted to move up in business to wear tie-neck blouses with boxy navy-blue or gray skirt suits. Pants were deemed too sexy and inappropriate for the office.
"I remember buying the shirt and tie, which came as a set, and wearing it with a skirt suit and spike heels—and I wasn't unhappy to give it away when I became pregnant and it no longer fit," said Pat Cook, who started her career at Chemical Bank and is now chief executive officer of Cook & Co., a Bronxville (N.Y.)-based executive recruiter. "I was trying desperately not to stick out as a woman."


Now, with women making up almost 50 percent of the workforce, according to the U.S. Bureau of Labor Statistics, the bow blouse is a piece that stands out and easily transitions between the office and happy hour.
That's the draw for Cecily Jacobson, who works in software sales at Oracle. The 22-year-old just bought a Lilly Pulitzer tie-neck blouse in four colors. Jacobson often wears them with a blazer and a skirt to work, and she prefers the unstructured fit to collared shirts that are often unflattering.
"It's different," said Jacobson, who's based in Reston, Va. "It's versatile. You can take your blazer off, and it's perfect for going out after work."
Statement Piece

Modern styling is what sets the bow blouse apart from its dress-for-success heritage. Young women are wearing the blouse as a statement rather than to blend in, and adding them to outfits across multiple occasions.
"It's a look that's empowering but also feminine and flirty, depending on how you tie the bow," said Danielle Merollo, director of personal shopping at Americana Manhasset, a luxury shopping center in Long Island, about 30 minutes from Manhattan. She's been advising women to wear this season's tie-neck blouses not only to work under suit jackets, but also paired with short or long skirts for evening wear or with jeans for casual wear. "I'm glad the bows are back," Merollo said. "They're a beautiful accessory."
The '70s trend is often not being sold to older women who remember the tie-neck blouse's history, Express's Jacobs said. For those who do want to be part of the current style, there are plenty of other options, from oversize prints to suede accents.
"I'm still going to wear it," she said. "That's probably bad."
Correction: The original version of this story misstated the percentage of women in the workforce.
Before it's here, it's on the Bloomberg Terminal.
LEARN MORE