Hillary Clinton Calls for U.S. to Take 65,000 Refugees
It's the same number fellow candidate Martin O'Malley came up with earlier this month.
By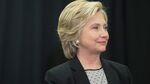 Democratic presidential candidate Hillary Clinton on Sunday called for a drastic increase in the number of refugees the U.S. plans to take in. 
"You know, look, we're facing the worst refugee crisis since the end of World War II and I think the United States has to do more and I would like to see us move from what is a good start with 10,000 to 65,000 and begin immediately to put into place the mechanisms for vetting the people we would take in, looking to really emphasis some of those who are most vulnerable," Clinton said on CBS's Face the Nation. 
Fellow Democratic candidate Martin O'Malley advocated for that same 65,000 earlier this month. Democratic candidate Bernie Sanders last week refrained from giving a number of refugees to take in, saying that the U.S. needs to help, but that the scope of who should be brought in is still unclear. 
President Barack Obama announced a plan to allow in the 10,000 refugees earlier this month. 
The former secretary of state was asked if she felt she bore any responsibility for the refugee crisis in Syria.
"I did recommend that at the beginning of this conflict, we do more to help train those who are in the forefront of leading the opposition against Assad, looking to try to bring the moderates together," she said.  "You know, a lot of these rebels originally, you know, they were business people, they were professional people, they were students, they had no training in going up against the Syrian Army, which Assad clearly was going to use to the ultimate effect."
The interview marked Clinton's first appearance on a Sunday political show in four years. She also talked about Senate's upcoming vote to ban late-term abortions, defending the procedures as medically necessary in most cases. 
"This is one of those really painful questions that people raise and obviously, it's really emotional." Clinton said. "I think that the kind of late-term abortions that take place are because of medical necessity.  And therefore, I would hate to see the government interfering with that decision."
Clinton also discussed Jeb Bush's claim during Wednesday's Republican debate that his brother kept the country safe. 
"I think it's a complicated question because, of course, 9/11 happened, I was a senator from New York and I was, you know, basically consumed by my responsibility to help the people directly affected in my state and in the city," Clinton said. "And then, I do give President Bush, you know, credit for trying to bring the country together around the threats that we did face. I've said the war in Iraq was a mistake. I supported what happened in Afghanistan. So if you sort it all out, you know, it's a mixed picture."