China's 'Sloppy' Policy Irks Blankfein as Yellen Cites Xi Doubts
By and
Goldman's Blankfein says China response `ham-handed'

Mobius says regulators have taken `few steps backwards'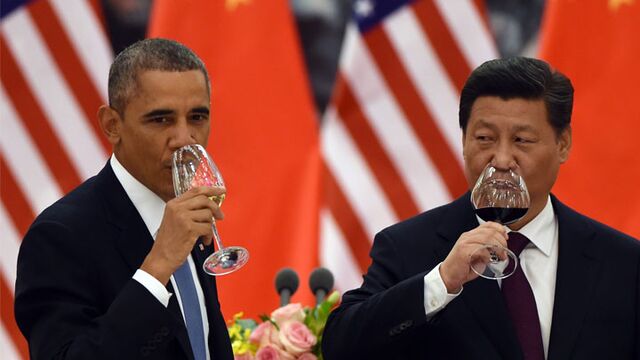 As China's President Xi Jinping heads to the U.S. for his first state visit, he confronts a wall of skepticism from global money managers and policy makers.
From New York to London to Tokyo, finance luminaries have criticized Xi's administration for what they characterize as a series of clumsy -- and potentially damaging -- attempts to bolster the nation's equities and the economy. Federal Reserve Chair Janet Yellen on Thursday referred to investor concerns over the "deftness" of China's response, a day after Goldman Sachs Group Inc.'s Lloyd Blankfein called it "awfully sloppy" and "ham-handed."
For China, a priority will be enhancing Xi's stature at home with events ranging from meeting Bill Gates in Seattle to addressing the United Nations in New York. But photo-ops aside, many investors say they're reluctant to invest in China right now as world leaders say its actions hold the key to calming global markets. Their faith has been shaken by government intervention in response to a $5 trillion stock market rout, a shock yuan devaluation and Xi's inability to revive an economy growing at the slowest pace in 25 years.
"If I wanted to invest in China, I wouldn't invest now," Blankfein, Goldman's chief executive, said in response to a question during an on-stage interview at a breakfast event last week in New York. "I'm not going to buy after the Chinese government may have intervened."
Mark Mobius, chairman of the emerging markets group at Franklin Templeton Investments, said in an interview in Hong Kong Sept. 4 that regulators had taken a "few steps backwards," after they forced state funds to buy shares and forbade major shareholders from selling. Helen Zhu, head of China equities at BlackRock Inc., the world's biggest money manager, wrote on Aug. 25 that the government needs to clear up "confusion" regarding its policy response and press ahead with reform, noting disappointment over a planned state-sector overhaul.

The Shanghai Composite index has tumbled more than 40 percent from its June 12 high and a gauge of 100-day volatility climbed to an 18-year high last week as state intervention puts off potential bargain hunters including Mobius. The yuan's Aug. 11 devaluation triggered concern of a global currency war and was a policy U-turn after a four-month peg to the U.S. dollar. In the bond market, regulators have shifted between allowing private sector defaults to bailing out local-government financing units with municipal bond swaps.
The Shanghai stock gauge rose 1.9 percent at the close, while the yuan dropped 0.08 percent.
Carney, Yellen
Among policy makers, Japan Finance Minister Taro Aso on Aug. 25 called the financial-market intervention "against common sense vis-a-vis international currencies." On Wednesday, Bank of England Governor Mark Carney told lawmakers in London that China's economy might be more volatile than statistics suggest. Yellen said China worries were partly to blame for a delay in raising interest rates.
"Developments that we saw in financial markets in August, in part, reflected concerns that there was down-side risk to Chinese economic performance," she told a press conference. "And perhaps concerns about the deftness in which policymakers were addressing those concerns."
No Collapse
The economy isn't as weak as it may look, according to the third-quarter China Beige Book survey published by New York-based CBB International. "No collapse is nigh" in the aftermath of the stock market plunge and currency devaluation, the report said. Capital expenditure is rebounding slightly and the services sector shows strength, it concluded.
The property market has been revived by five central bank interest-rate cuts and loosening restrictions. New-home prices rose in 35 cities out of 70 cities in August, compared with 31 in July, statistics bureau data show.
China's foreign ministry didn't immediately respond to a request for comment.
"Some movements on the stock exchange in China should not equal the whole picture of the Chinese economy," Yang Jiechi, one of five state councilors, said in a Sept. 9 interview in Beijing. Efforts to stem the equity losses fall within the "boundaries of reasonableness" and China's "handsome" growth rate of about 7 percent will remain an engine for global expansion, he said.

Too Optimistic
"I see it as inevitable for China to remain a focus of attention everywhere given its importance in the world economy," said Tony Hann, a London-based money manager at Blackfriars Asset Management Ltd., which oversees about $350 million. "There seems to have been an enormous amount of faith placed in the ability of the Chinese authorities to manage a smooth landing. To me this seemed wildly over optimistic."
China affects the world more than ever before, accounting for 13.3 percent of global gross domestic product last year, from less than 5 percent a decade earlier, World Bank data show. Yet overseas banks and life insurers have both seen their market shares slip over the past decade, to 1.7 percent and 5.6 percent respectively at the end of 2013, according to Ernst & Young Global Ltd. Foreign ownership of China's telecommunications industry is less than 1 percent. More than 30 percent of members of the American Chamber of Commerce in China have no investment expansion planned this year, the highest rate since 2009, an AmCham report said in April.
U.S. firms will be given a chance to press their case for China to open up as Xi begins his visit with business round table on Wednesday in Seattle involving Gates and Warren Buffett. He then heads to the capital, where he will hold a summit with President Barack Obama on Friday. Xi wraps up his trip with an address to the UN General assembly.
Developing a more robust market system will aid in an economic transition that presents one of the most difficult "execution issues" in history, Blankfein, 60, said at last week's event, which was sponsored by the Wall Street Journal. He added that China's leaders had done "an incredible job" of getting many decisions right, and repeated his prediction that a few tough years won't stop this from being China's century.
State Sector Reforms
At stake for China is its ability to transition to a new growth model driven by services and consumption rather than inefficient, debt-fueled investment. Yet Xi's plan to overhaul the country's $16 trillion state-run sector unveiled this month has failed to reignite investor interest. The State Council plan to increase the pace of privatization lacked details and even sought to strengthen the Communist Party's influence in selecting and promoting managers.
Paul Chan, Hong Kong-based chief investment officer for Asia excluding Japan at Invesco Ltd., which oversees $776 billion globally, blames a lack of reform for the zero return on the MSCI China Index over 20 years.

Railway giant CRRC Corp. has fallen 60 percent from this year's high in April in Shanghai as a pre-merger rally fizzed out amid disappointment over progress to improve efficiency.
"My entire career is to watch this state-owned enterprise reform in the past 20 years and at the end of the day, I haven't seen any concrete result," said Chan. "Forget about it. We aren't interested in the reform story."
For more, read this next: