Rivals Condemn Trump as Muslim Obama Suggestion Returns to Spotlight
"Is anybody really surprised that this happened at a Donald Trump rally?" the White House's top spokesman asks.
By and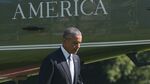 The White House and leading Democratic candidates for president slammed Donald Trump for failing to rebut a man who called President Barack Obama a Muslim at a campaign event, with Obama's top spokesman blaming the entire Republican Party for courting such voters.
Some Republican presidential candidates joined the Democrats in condemning Trump's response, while at least one said the fault lied more with the man in the audience. Democrats are seeking to use Trump's candidacy to paint the GOP as extreme and hostile to groups of voters with increasing political clout.  
"Is anybody really surprised that this happened at a Donald Trump rally?" White House press secretary Josh Earnest said on Friday when asked about the exchange at a New Hampshire town hall event on Thursday night. "The people who hold these offensive views are part of Mr. Trump's base."
More broadly, Earnest faulted the Republican Party and those presidential candidates who haven't reproached Trump over his previous statements about immigrants and women.
"We've seen a variety of leaders in the Republican Party countenance some offensive views just to try to win some votes," he said. "That has consequences."
'We're going to be looking at that'
Answering questions at an event on Thursday in Rochester, New Hampshire, Trump called on a member of the audience who said, "We have a problem in this country. It's called Muslims," the Associated Press reported. "We know our current president is one. You know he's not even an American."
"Right," Trump said while the man was speaking. He didn't challenge the assertions and gave a general answer about "a lot of people are saying that bad things are happening out there," according to the AP.
After the man continued, saying that there are terrorist training camps in the U.S., Trump said that "we're going to be looking at that and plenty of other things," according to the AP.
'You have an obligation as a leader'
New Jersey Governor Chris Christie was among the Trump rivals to criticize how the billionaire handled the situation, saying he wouldn't have permitted the statement to go unchallenged.
"I'd say that the president's a Christian and he was born in this country. Those two things are self-evident," Christie said on Friday on NBC's Today program. "I think you have an obligation as a leader to do that."
South Carolina Senator Lindsey Graham, who has frequently clashed with Trump over his comments about Hispanic immigrants, told NBC's Andrea Mitchell on Friday that the man at the rally needed "to be put in his place." Trump's failure to correct the man would be a "defining moment," Graham said.
Former Arkansas Governor Mike Huckabee, on the other hand, told conservative radio host Laura Ingraham on Friday that he thought the story was "much ado about nothing" and that it said more about the questioner than Trump.
Clinton, appearing at the University of New Hampshire in Durham on Friday, said Trump should have "repudiated" the man's comment and that she hopes he apologizes.
Trump and other presidential candidates should "start behaving like a president" and "stop this descent into the kind of hateful, mean-spirited, divisive rhetoric," Clinton said.
Long history
Earnest cited the example of Republican Senator John McCain, who during the 2008 election campaign corrected an audience member at an event who suggested Obama was an Arab.
"It is too bad that he wasn't able to summon the same kind of patriotism that we saw from Senator McCain," Earnest said.
Obama, a Christian who was born in Hawaii in 1961, has frequently come in for questioning by political opponents about his birthplace and religion. Before Trump entered politics as a candidate, he seized headlines in 2011 for casting doubt about the existence of Obama's long-form birth certificate. 
Variations of the idea of Obama as an outsider go back even farther. In 2008, during Clinton's battle with Obama for the Democratic nomination, a top Clinton aide suggested that she should should portray herself as subtly more American than Obama. 
While not explicitly raising his birthplace or religion, the then-aide wrote, Obama's "roots to basic American values and culture are at best limited. I cannot imagine America electing a president during a time of war who is not at his center fundamentally American in his thinking and his values."
The notion that Obama is Muslim has cachet among some voters. According to a CNN poll released Sept. 14, 29 percent of Americans, including 43 percent of Republicans and 54 percent of Trump supporters, hold the belief.
—With assistance from Joe Sobczyk and Jennifer Epstein.