Obama Greases Rails for U.S. Businesses to Operate in Cuba
Toluse Olorunnipa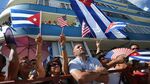 U.S. corporate executives will be able to travel more freely to Cuba under rules the Obama administration issued Friday that also allow easier exports of software and telecommunications equipment to the island nation.
Companies would be able to establish subsidiaries and more easily do business in Cuba under the regulations, which take effect Monday. The new rules will make Obama's diplomatic overtures to Cuba more difficult for his successor to reverse, said John Kavulich, president of the U.S.-Cuba Trade and Economic Council.
"No one can minimize the impact of this in terms of the magnitude of what the president has done," Kavulich said. "To allow this all at once is massive."
Kavulich said the new rules might allow FedEx Corp. or United Parcel Service Inc. to open drop-off locations in Cuba, or Deere & Co. to have a showroom there. On Thursday, Verizon Communications Inc. said it would begin offering roaming wireless service in Cuba. Sprint Corp. also said it would be entering Cuba soon.
The rules will allow those and other authorized U.S. companies to hire Cubans, enter joint ventures with Cuban companies, and legally establish a physical presence on the island nation.
Cuba's Call
"The Obama administration is doing everything that it can under current law to ease sanctions," said Caitlin Webber, a Bloomberg Intelligence analyst. "The biggest variable will be whether or not the Cuban government is going to make it easier to invest there and to hire there."
The changes are intended in part to encourage the Cuban government to more rapidly open its economy to U.S. companies, a senior administration official said, requesting anonymity to discuss internal deliberations.
U.S. companies may partner with businesses owned by the Cuban government under the new rules, including the state-owned telephone company, the official said.
The regulations, part of the Obama administration's plan to reestablish relations with Cuba after more than half a century of estrangement, come in advance of Pope Francis' visit to the White House next week. The pope, who is scheduled to visit Havana on Saturday, facilitated secret meetings between U.S. and Cuban officials before diplomatic relations were restored in December.
Obama spoke by phone with Cuba's president, Raul Castro, later on Friday "to discuss the process of normalization between the two countries in advance of Pope Francis's upcoming visits to Cuba and the United States," the White House said in a statement.
The two leaders discussed the pope's role in the detente between their countries and cooperation between U.S. and Cuban medical workers during a Navy hospital ship's stop in Haiti this week. They also discussed unspecified steps to advance the relationship, the White House said, without providing details.
'Constructive Change'
"Today's announcement underscores the administration's commitment to promote constructive change for the Cuban people," Treasury Secretary Jacob Lew said in a statement.
The rules also eliminate a $2,000 quarterly limit on money U.S. residents can send to Cuba. Cuba's new ambassador to the U.S., Jose Cabanas, officially began his tenure in Washington on Thursday.
Some businesses will be hesitant to invest in Cuba before the 2016 elections, despite Obama's executive actions, Webber said. Several Republican presidential candidates, including Florida Senator Marco Rubio, have pledged to undo Obama's Cuba policies.
Peter Quinter, head of international law at the legal firm GrayRobinson in Miami, said the changes should make it clear to Republicans in Congress that the U.S. embargo on trade with Cuba can't last much longer.
"The end of the embargo is in sight," said Quinter, a former U.S. Customs Service attorney who was responsible for enforcing the trade ban. "Whether it's in 2017 or four years later, the embargo against Cuba by the United States is inevitable to be ended."