House Passes Anti-Abortion Bills as Funding Fight Continues
Billy House and Terrence Dopp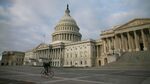 The U.S. House of Representatives voted to block federal payments to Planned Parenthood for a year, though the action didn't satisfy some Republicans who are prepared to shut down the federal government over the issue.
Some conservatives criticized Friday's 241-187 vote on the defunding measure as little more than a symbolic gesture with no chance of advancing. Those members have been willing to force a shutdown if defunding isn't linked to a federal spending bill.
"The result here, unfortunately, is we won't get this bill into law," said Representative John Fleming of Louisiana, a founding member of the House Freedom Caucus of about 40 conservative Republicans.
The bill, H.R. 3134, would bar federal funds for Planned Parenthood and its affiliates for a year unless they certify that they won't perform abortions. The House also passed, 248-177, a second measure that would impose criminal penalties on doctors who fail to provide medical attention to live babies delivered during abortions. That bill is H.R. 3504.
The votes represented efforts by House Speaker John Boehner and other Republican leaders to satisfy conservatives who are outraged by undercover videos purporting to show Planned Parenthood officials discussing reimbursement for providing tissue from aborted fetuses to researchers.
Planned Parenthood, the women's reproductive health service, has said it doesn't sell fetal tissue for profit, and instead receives the cost of collecting and delivering it. Bloomberg Philanthropies provides financial support for Planned Parenthood.
Stopgap Measure
Boehner is trying to get enough support from rank-and-file Republicans to pass a stopgap spending bill to prevent a partial government shutdown when the new fiscal year starts Oct. 1. If the conservatives can't be brought along, Boehner might have to seek votes from House Democratic leader Nancy Pelosi of California.
Pelosi may seek concessions from Boehner in exchange for her party's help.
"I cannot say he can count on votes of Democrats," Representative Chris Van Hollen, a Maryland Democrat, said at a Christian Science Monitor breakfast Friday.
If Boehner needs Democratic votes to pass a spending bill, "we would like to see something like" a measure reviving the U.S. Export-Import Bank attached to it, Van Hollen said.
Some conservatives in Boehner's party said Friday's votes weren't enough to bring them on board, particularly because President Barack Obama has said he would veto both abortion measures if they reached his desk. The Senate hasn't scheduled action on either of the measures.
'Hold Us Accountable'
"Our constituents rightly hold us accountable for results," Fleming said. The stand-alone proposal to defund Planned Parenthood "won't get through the Senate, and the president won't sign it even if it does," he said.
Fleming said that's why he and at least three-dozen other House conservatives are insisting that defunding language be included in the spending bill.
That would force the Senate to consider it and Obama to choose between signing a bill with the defunding language or shutting down the government, Fleming said.
Representative Matt Salmon of Arizona said House Republicans need to find out if Obama would follow through on his veto threats, instead of backing down before trying to force his hand.
Representative Mick Mulvaney of South Carolina said conservatives aren't trying to goad Boehner into making a deal with Democrats on a spending bill so they can build their case to remove him from the party's top spot.
Fleming said, "This has nothing to do with the speaker." He described the abortion strategy as an issue of conscience, while adding, "That's not to say his actions aren't being watched closely."
Not all conservatives agreed.
'Impossible Line'
Representative Trent Franks, an Arizona Republican and sponsor of the measure that would impose criminal penalties on doctors, said, "The speaker's having to walk an impossible line right now."
Franks said Boehner's difficulties are compounded by Senate Democrats' ability to block legislation from advancing in that chamber although they are in the minority.
"I think he's doing about the best a human being could do," Franks said. Passing a short-term spending bill, along with Franks's separate measure, is a better path that will leave Republicans on high ground, he said.