Carson's Appeal: He's Zen Ben in a Field Led by Trump
What the low-key doctor's supporters say they're drawn to most is his ability to project calm, and the other guy at the front of the pack at the moment does come across like that.
By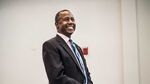 "Thank you for being the opposite of Trump," a man who'd come to hear presidential candidate Ben Carson speak in Greenville, South Carolina, on Friday told him afterwards. "I love his humor," said the man, Rick Posey, as he walked away.