Señor Frog's Brings Spring Break to Times Square
Señor Frog's attempts to succeed without spring breakers.
By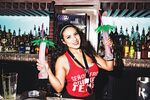 At Señor Frog's in Times Square, you should pretend it's your birthday. If you do, a scrum of young staff will gather by the DJ booth, then loop around the cavernous restaurant waving white flashing lights and carrying a whipped cream cake. When they get to your table, some of them will stand on the banquettes and dance. Others will light your dessert on fire. But they don't quite have that part down yet, so the flames may get out of control, and someone will have to stomp them out on the floor.
The relentlessly cheery employees have been trained to parade whether the restaurant is full or relatively empty, as it was one Thursday in September. The owners of Señor Frog's, a chain of successful clubs based in Mexico, feel confident their tequila-plus-poor-decisions parties will fill an unmet need in Times Square. It's the company's debut in the Northeast and its second club not near a beach. (The first was Las Vegas, in 2012.)

So far, the tables have mostly filled up with New York residents. "A couple of us went to Señor Frog's in Cancún, and we loved it a lot," says Kelly Anne Smith, 24, from the Bronx. Wooing nonvacationers is part of the business plan. "In almost every Señor Frog's, we have a mix of 25 percent locals and 75 percent tourists," says David Krouham, the chief executive officer of parent company Grupo Anderson's. He began as a manager at the first Señor Frog's, in Cancún, then helped the brand expand to other Mexican resort towns and eventually to rum-soaked spots like Aruba and Orlando.
All locations serve food early in the evening but don't truly get going until after 10 p.m., with live music, shots, and games. Grupo Anderson's has used this simple strategy to grow about 20 percent in revenue each year for the past five years. Krouham expects the company to reach $160 million this year. But he doesn't intend to target other cities where it snows; New York is an anomaly. Then again, Times Square is also at a crossroads: Mayor Bill de Blasio is weighing whether to tear up its pedestrian esplanades in an effort to uproot hordes of tourist-abusing Elmos and topless painted ladies.
For now, Señor Frog's fits right in. Situated down the block from Madame Tussauds and Ripley's Believe It or Not!, the subterranean space doesn't make you feel as if you're somewhere warm. There are no thatched cabanas, live palm trees, or shirtless guys in board shorts. There is, however, a gift shop where you can buy festive throw pillows. The ceiling, like at other Señor Frog's, is covered with wooden panels inscribed with slogans that range from the vaguely misogynistic to the downright gross. "Drink till she's cute, but stop before the wedding," reads one. "Love is like a booger," explains another. "You keep picking at it until you get it, and then you wonder what to do with it."

Hungry now? The food isn't terrible, although it's irrelevant. If you order the tacos, they come (for reasons a waiter couldn't explain) in a ceramic kitchen sink. The ice cream is served in a plastic truck. You may be amused, but when you're looking at a bowl of goop changing color under flashing neon lights—at one moment you're sure it's guacamole, a second later it's clearly refried beans—you won't be able to think of the grub as anything but party fuel.
You'll need it. A woman will approach with a bundle of long, thin balloons. Soon they'll become loopy hats that make revelers look like creatures out of Dr. Seuss. Diners will crush the dance floor with those wobbling antennae, singing like Whos down in Whoville. The house band, La Linea, will repeat a string of uncanny pop covers. And the MC will do anything to keep people pumped, screaming out dance challenges and offering two-for-one drinks.
Are you going to spring for the giant $22.50 margarita, which is served in a souvenir plastic palm tree that looks decidedly phallic? It comes so utterly frozen, it will take minutes to suck the drink up the straw. Oh, look, now you're part of the fun. Someone take a picture.
Before it's here, it's on the Bloomberg Terminal.
LEARN MORE