Masters of the Small Canvas
Drawing icons and emoticons for screens of all sizes.
By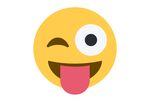 Apple Chief Executive Officer Tim Cook's announcement this month that "the future of TV is apps" made designer Louie Mantia very happy. He and Alexa Grafera run Parakeet, a studio in Portland, Ore., that specializes in designing icons—the postage-stamp-size images that users tap or click to launch apps. On the new Apple TV, which the company demonstrated on Sept. 9, the animated 3D icons look much sexier than their tiny, static iPhone counterparts. "We are very excited about Apple TV," says Mantia. For designers like him, the product's home screen is a new canvas.
Ever since Susan Kare's 8-bit designs graced the first Macintosh screens in 1984, icon design, like digital typography, has been an important if unglamorous niche in the software business. The 2008 debut of Apple's App Store created "a sea change in our industry," says Gedeon Maheux, co-founder of Iconfactory, a large design studio in Greensboro, N.C., that does work for big brands such as Windows and Twitter. "It gave us job security."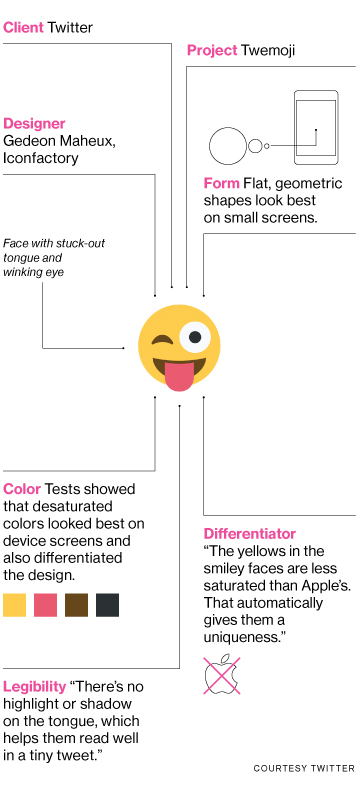 A decade ago, one of Iconfactory's principal designers specialized in mimicking the large-format, heavily detailed visual style of Aqua, Apple's name for the user interface on its Mac OS X operating system. (Aqua's environment was designed to conjure water, from bubbles to the way light is refracted undersea. "We made the buttons on the screen look so good you'll want to lick them," Steve Jobs told an interviewer.) Now Iconfactory also designs custom emojis the size of cookie crumbs.
Icons and glyphs—the term for symbols that blur the line between typography and pictograms, such as the triangular "play" button on online videos—must be drawn for every screen size that Silicon Valley produces, from 5K resolution monitors to smart appliances and wearables. Designers such as Maheux and Mantia, who also was at the Iconfactory before starting Parakeet, are the ones doing that work.
Companies prepare and refine concept sketches by hand, then craft from scratch the digital "assets"—be they dozens of images for a single app or the hundreds of glyphs required by an operating system or social network. They rarely repurpose even the simplest shapes. Designers often work alone or in pairs. "Although when we have to draw a globe for the umpteenth time, it's better to throw everyone at it," says Maheux. "It takes the pressure off."
Even the tiniest icons start out big on designers' screens. This isn't merely for convenience while drawing them: Many clients require large-format versions of the icons for use in offline marketing materials. Multiple device resolutions are another issue: Apple's App Store, for instance, requires developers to submit different-size images for each icon, from 29 x 29 pixels, about as large as a pencil eraser (for display in iOS's Settings app), to a DVD-size 1024 x 1024-pixel version for use in promotional materials and presentations. Icons may come in ever-smaller contexts—think of the Apple Watch's minuscule app grid—but "from the designer's perspective, everything's getting bigger," Maheux says. "The physical dimensions of the art are larger than ever, and the superhigh density of pixels lets you see all the details clearly even at truly tiny display sizes."


At large companies such as Google and Microsoft, where software is deployed across hundreds of products and services, icon design is done by in-house teams. Google's approach is a blend of design and engineering: Icons are treated like code and housed in an open source repository. "There's one 'pause' icon for the whole company, and if we tweak it, the changes propagate out to everybody automatically," says Josh Estelle, who leads the material design engineering group.
There are still old masters at work within corporate walls. Brian Frick, who spent 15 years at Apple designing icons for such classic Mac OS X applications as Mail and iTunes, now works at Facebook, where he helped redesign the company's ubiquitous "Friends" glyph. ("He's a very prominent figure in the field," Mantia says.) Kare, whose original Macintosh icon sketches reside in the Museum of Modern Art, was recently hired by Pinterest to, as she puts it, "bring empathy" to the company's product interfaces.
Having once likened icon illustration to "working with needlepoint," Kare says the design principles are the same as they were in 1984. "Good icons work the way traffic signs do," she says. "It involves a type of poetic problem-solving in order to arrive at a design that can be understood universally and communicate a function at a glance."
As driverless cars, smart homes, and other Internet-connected devices enter the mainstream, designers of these digital traffic signs are encountering demand from unexpected quarters. Among Parakeet's recent clients are the makers of the June Intelligent Oven, a microwave-like appliance whose screen displays luscious-looking food icons as one-tap shortcuts to cooking a perfect meal. Mantia and Grafera crafted two dozen icons for June, including chicken nuggets, baked salmon, and asparagus—a job that synced conveniently with Grafera's off-hours habit of drawing food emoji for fun. Says Mantia: "If we weren't getting paid, we'd be doing this anyway."
The bottom line: Designers who craft digital icons are busier than ever as devices with displays proliferate.
Before it's here, it's on the Bloomberg Terminal.
LEARN MORE