A Hadid Spaceship Lands in New York
The Anglo-Iraqi architect's condo looks over a prime tourist spot.
By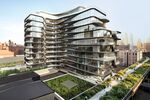 It's a delicate time for Zaha Hadid. The Anglo-Iraqi architect's curvaceous, futuristic buildings have gone up in cities as far apart as Guangzhou in China and East Lansing in Michigan, earning her a Pritzker Prize, the profession's highest honor. Yet in Tokyo, Prime Minister Shinzo Abe shelved plans for Hadid's stadium intended for the 2020 Summer Olympics in the face of protests over its $2 billion estimated cost. The architect has returned to the drawing board. In Miami, the city scrapped plans for a Hadid-designed parking garage, also because of its high projected cost.
Amid such controversies, Hadid's first building in New York City—a glassy 11-story condominium—has been quietly rising next to the elevated High Line park in Chelsea. Built by Related, one of the city's biggest developers, 520 W. 28th St. has 39 apartments and dozens of balconies and will feature amenities such as a 75-foot saltwater pool, a private spa, and a refrigerated package room (to keep residents' grocery deliveries chilled). Units range from 1,700 square feet to more than 6,000 square feet, with the cheapest going for $4.95 million. The priciest apartment is $50 million, among the most expensive in New York.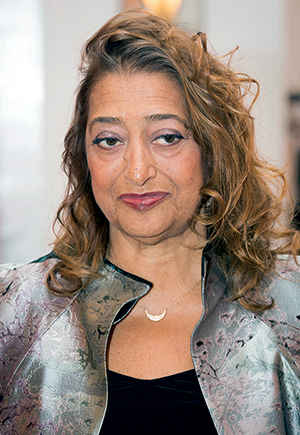 While those numbers might sound exorbitant, they're becoming the norm in the west side of Chelsea. The neighborhood, primarily industrial 20 years ago, is in the midst of a transformation that will culminate with the mammoth Hudson Yards project. "In the Hudson Yards and the area around the High Line, the zoning was changed about a decade ago," says Kate Slevin, the head of policy and planning at the Municipal Art Society of New York. "The whole liberation of the High Line has made projects possible," says Hadid. "The whole area is new-ish." The list of architects who have designed buildings in the neighborhood reads like a name-that-starchitect game: Frank Gehry, Norman Foster, Renzo Piano, Annabelle Selldorf, Jean Nouvel, Rem Koolhaas, and it goes on.
Amid the scrum of statement architecture, Hadid's building promises to stand out—and not just because of its apartments' price tags. Distinctive curved and chevron-shaped black cladding interlocks across the building. The interiors of the units are almost loft-like, with huge open areas that flow from living room to dining room to kitchen. Opalescent white walls shimmer, and rounded corners ripple through rooms. The architect says her goal was to eliminate clutter, though she added that she's "not necessarily a minimalist." Says Hadid: "You have to do it in such a way that people can interpret their own thing within their own space. You can't know, with 39 apartments, what everyone wants."
While some buyers might balk at mostly transparent walls that face one of the most trafficked tourist destinations in Manhattan, Hadid says they're crucial to her design. "New York has great views, great skies, and very nice light," she says. "That light is very rare, both cold and sharp."
Hadid is probably best known for her civic buildings—Rome's Maxxi contemporary art museum; the London Aquatics Centre, built for the 2012 Olympic Games; and the Heydar Aliyev Cultural Center in Azerbaijan, arguably her most striking structure. Also, most of her work has been outside the U.S. The High Line building, then, is Hadid's chance to introduce herself to American audiences. "It's such a great city, it deserves to have some of the best towers in the world," she says. That her calling card also happens to be a residence for the super rich doesn't trouble her. Real estate "is insane in London, too," she says. "I really don't know the prices in New York, because I never attempted to buy anything."
The bottom line: New York's Chelsea neighborhood has turned into a playground for starchitects.
Before it's here, it's on the Bloomberg Terminal.
LEARN MORE