In Second Debate, Republicans Get Personal, and Serious About Policy
After a friendly round of introductions, the second Republican presidential debate quickly plunged into controlled chaos.
By , , , and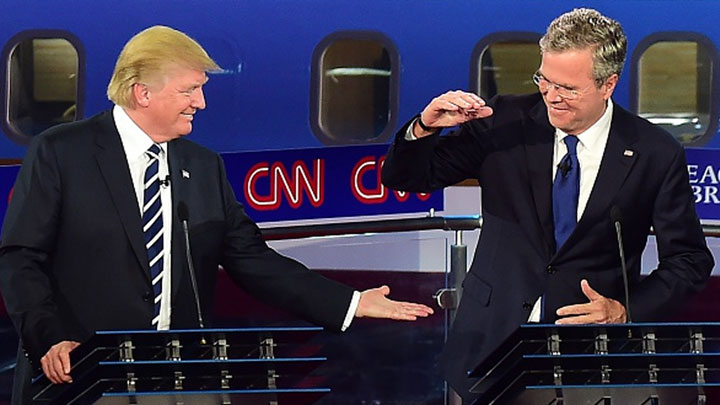 There was one more candidate than the last debate, and a lot more blood on the floor.
After a friendly round of introductions, the second Republican presidential debate in Simi Valley, California, on Wednesday quickly plunged into clashes that shifted from policy to the personal and back again, with more politically experienced candidates trying to gain an advantage against the front-runner at center stage: Donald Trump.
To his left was former Florida Governor Jeb Bush, who has struggled in this campaign to escape from the shadow of Trump and also his brother and former President George W. Bush. In one sharp exchange, Bush found himself struggling once again.
When asked who his foreign policy advisers would be, Trump emphasized his opposition to the war in Iraq. Jeb Bush countered that Trump showed poor judgment in his past praise of Hillary Clinton. "I mean the lack of judgment and the lack of understanding about how the world works is really dangerous," Bush said.
"And your brother's administration gave us Barack Obama, because it was such a disaster those last three months that Abraham Lincoln couldn't have been elected," Trump countered.
"As relates to my brother, there's one thing I know for sure: he kept us safe," Bush answered. At other points in the debate, Bush also defended his brother's choice of John Roberts for the Supreme Court, and also his advisers, several of whom are now on Team Jeb Bush. It is a curious strategy given that George W. Bush left the White House with a meager 34 percent approval rating and has since been cast into pariah status by much of the conservative base—but one that Jeb Bush has, at times to his detriment, stuck with.
The fierce mood continued for about three grueling hours, with establishment candidates like Bush and Wisconsin Governor Scott Walker trying to revive polling numbers falling as retired neurosurgeon Ben Carson and former Hewlett-Packard CEO Carly Fiorina, who, like Trump, have never held office, rise and rise.
Trump, Carson, and Fiorina were in the top three spots in a WBUR poll released Wednesday, revealing a crossroads for the party, with insiders fretting over the electability of the current front-runners and urging the more traditional candidates to seize control lest more of them end up the next Rick Perry, the first casualty of 2016. 
The nearly three-hour long debate covered a dizzying number of topics, selected by moderators Jake Tapper, Dana Bash, and radio host Hugh Hewitt with an eye toward inciting engagement between the candidates. It worked, and no candidate seemed to benefit more from the combative atmosphere more than Fiorina. 
In the opening moments, Fiorina refused to say if Trump should be trusted with the nuclear codes. "That's not for me to answer," she dodged. "It is for the voters of this country to answer." She did, however, call Trump a "wonderful entertainer."
Bush, who has brawled with Trump on the campaign trail, also dodged the same question. "I think the voters will make that determination," said Bush, who added that he has the "steady hand" to be president.
Walker interrupted the Trump-Bush exchange to attack Trump.
"Mr. Trump, we don't need an apprentice in the White House. We have one now," he said. "We don't know who you are."

In the opening statements, Bush touted his record as Florida's governor in cutting taxes. Walker touted his fight against "special interests," or public-sector unions. Florida Senator Marco Rubio brought a bottle of water and a quip about his awkward chug of water in the midst of his State of the Union response. Trump bragged that he "wrote the Art of the Deal" and "made billions and billions of dollars dealing with people all over the world." Carson, who has jumped to second place, warned of a dark future "unless we the people intervene."
When the topic turned to Iran, Kentucky Senator Rand Paul showed flashes of his non-interventionist roots, casting doubt on calls from his rivals, including Texas Senator Ted Cruz, to rip up the Iran deal. "Should we cut up the agreement immediately? That's absurd," he said, adding that the U.S. ought to "see if Iran's complying."
During a testy exchange with Bush, who noted Trump's past friendly relationships with Clinton and other Democrats, Trump pointed and mocked, "More energy tonight, I like that." It was a reference to Trump's ongoing attacks on Bush as too "low-energy" to be president.
Moderator Jake Tapper later asked Fiorina to react to a Rolling Stone profile of Trump in which he said "look at that face" while looking at video of Fiorina. Trump said he was talking about her persona, but Fiorina was not convinced. "I think women all over this country heard very clearly what Mr. Trump said," Fiorina replied.

"I think she's got a beautiful face, and I think she's a beautiful woman," Trump replied. The look on Fiorina's face implied that Trump was not forgiven. 
Trump and Bush also clashed on the issue of immigration. Trump defended his insinuation that Bush's relatively pro-immigration views are influenced by his Mexican-born wife. "Apologize for that, Donald," Bush demanded.
"I won't do that because I said nothing wrong. But she's a lovely woman," Trump responded.
Bush said Trump's plan to deport all the estimated 11 million undocumented immigrants in the U.S. would cost hundreds of billions of dollars, while Trump declared that the influx of undocumented immigrants was tearing up the fabric of the U.S. "Right now we don't have a country," Trump said.
On foreign policy, Trump was asked to respond to Rubio's criticism that his lack of familiarity with foreign policy made him unfit to be president. Trump said that he and radio host Hugh Hewitt had a misunderstanding about a question about the leaders of the Iranian Quds force that he was asked on Hewitt's show, which, he noted, the host later called a "great" interview. "There are few people anywhere, anywhere who would have known those names," Trump said. "I think he was reading them off a sheet."
Rubio declined to say whether he believed Trump was qualified to be commander-in-chef, but said that "we should have a deeper debate about these issues" and that Trump should be able to answer detailed foreign policy questions on day one.
The candidates got personal when it came to the topic of drugs. Paul first accused some of the candidates on the stage of being hypocrites, having smoked marijuana themselves while supporting measures that criminalize medical marijuana and prosecute mainly low-income people. Paul refrained from naming anyone specifically, but then Bush stepped in.
"So, 40 years ago I smoked marijuana and I admit it," Bush said. "I'm sure that other people might have done it and may not want to say it in front of 25 million people. My mom's not happy that I just did."
Bush went on to say that legalizing marijuana should be left to states, but emphasized the seriousness of drug epidemics elsewhere.
Fiorina stepped in, bringing up her step-daughter's death from a drug overdose in 2009.
"I very much hope that I am the only person on this stage who can say this, but I know there are millions of Americans out there who will say the same thing," she said. "My husband Frank and I buried a child to drug addiction. So we must invest more in the treatment of drugs. I agree with Senator Paul. I agree with states' rights. But we are misleading young people when we tell them marijuana is just like having a beer. It's not. And the marijuana that kids are smoking today is not the same as the marijuana that Jeb Bush smoked in 40 years ago."
While President Obama has said he has better things to do than watch the Republican field bash him and each other, he jabbed Trump's campaign slogan earlier Wednesday as Vice President Joe Biden, who continues to flirt with a presidential bid, appeared at the Solar Power International Trade Show, which is just a short drive from the Reagan library in Southern California. Clinton, meanwhile, taped an appearance on the late-night Tonight Show with Jimmy Fallonairing later Wednesday.