Obama Jabs at Trump's Slogan, Saying 'America's Great Right Now'
The president begs to differ with the Republican front-runner's slogan hours before Wednesday night's debate.
By and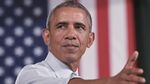 President Barack Obama took aim at Republican presidential front-runner Donald Trump's contention that he will "make America great again" and the country doesn't "win anymore."
"America's winning right now," the president said on Wednesday at a Business Roundtable meeting in Washington. "America's great right now." Granted, he added, "We can do even better."
The president's shot across the bow came hours before the Republicans who want to succeed him will meet to debate at the Reagan presidential library in Simi Valley, California, with the poll-leading billionaire standing center stage.
And it followed a series of tweets from Obama on Tuesday defending his economic record and the progress the country has made since the 2008 financial crisis. 
"This whole notion that somehow we're getting out-competed, out-dealt, out-this, out-that, we're losing, we're—nobody outside the United States understands what we're talking about," Obama said on Wednesday. "Overall, our cards are so much better than everybody else's."
On Twitter after the event, Obama offered up an example of what he thinks "makes America great." "Cool clock, Ahmed," read a message on the president's verified Twitter account, an apparent reference to reports of a 14-year-old Muslim boy in Texas who was detained by police this week for bringing a homemade clock to school that was mistaken for a possible bomb. "Want to bring it to the White House? We should inspire more kids like you to like science." (No charges against the boy have been reported.)

Obama is not the only one picking up Trump's own language and running with it. Republican candidate Marco Rubio, a Florida senator, in August referred to "another gentleman running for president whose slogan is 'Make America Great Again.'" "I would remind him that America is great," Rubio said, although he too added that "America has the chance to be greater."
The White House has said Obama does not plan to watch the debates.
Without naming the real estate mogul, Obama on Wednesday also knocked doom-and-gloom messages coming from the 2016 GOP field.
"In the echo chamber that is presidential politics, everything is dark and everything is terrible," he said. "They don't seem to have many solutions but don't have any trouble figuring out who to blame."
He slammed that approach, saying, "There's nothing particularly patriotic or American about talking down America."
He said Republicans should not shut down the government over spending on Planned Parenthood—a point Republicans are likely to debate on Wednesday night—and added that he believes the administration can finish the Trans-Pacific Partnership before year's end.
Kendall Breitman and Joe Sobczyk contributed to this report.