How Hugh Hewitt Became the GOP's Go-To Interrogator
The conservative radio host has done 40 interviews with candidates on his show. The debate format may shake things up.
By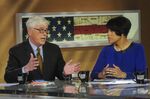 One Sunday in August, Jake Tapper and Hugh Hewitt met for brunch to talk debate prep. Tapper, CNN's chief Washington correspondent, is moderating the second face-off of the Republican primary, officially the CNN Ronald Reagan Library debate. Dana Bash, the network's chief political correspondent, will be on stage in Simi Valley, California, asking questions, and so will be Hewitt, although he's not from CNN. Hewitt, a conservative radio host whose show is syndicated by the Christian-focused Salem Radio Network, had Tapper on the air last month to disclose their brunch and discuss strategy. They spoke of the solemn issues of the day—Iranian nukes, the violation of UN embargoes, cyber warfare—and decried "what the media and political worlds and voters are discussing instead," which, at that moment, was whether Donald Trump had insinuated that Megyn Kelly was menstruating. How to strike the right balance? That's "the problem we face here," Hewitt told Tapper. "We need to be fair," he said, "but we also have to be of the news and we also have to be about the Republican primary voter. It's tricky."
Tricky, too, is that Kelly's dust-up with Trump became a news story—or more specifically, the blood-possible orifices of her body. Hewitt, for his part, is hoping not to make the headlines Thursday morning. He told Politico's Todd Purdum, "You don't want to remember a debate by the moderator. If you do," he said, "you've done something wrong."
But Hewitt has made himself into a real subject in the Republican field—a distinguished free agent. He is the nearly-professorial power-baron of conservative media, the party interrogator. A grown-up. Hewitt told Bloomberg in February that he had lobbied the Republican National Committee to have a conservative journalist to ask the questions at a debate—to discourage questions like one about birth control asked in 2012 by George Stephanopoulos, a member of what Hewitt would call the "MSM." Ten years ago, the New Yorker's Nicholas Lemann referred to Hewitt as "Most Famous Conservative Journalist Whom Liberals Have Never Heard Of." Now that a conservative journalist—Hewitt himself—will be asking questions, this may change.
Hewitt is 59 years old. He lives in Orange County, California. He loves the Cleveland Indians and the Cleveland Browns. He loves Notre Dame and Ohio State football. He is a runner. He goes to Catholic mass on Saturdays and Protestant church on Sundays. He writes a weekly column for the Washington Examiner and Townhall.com. He curates "necessary books" into six "shelves," which include thrillers, history, "most recent, highly favored," "the God Shelf," and "The Books That Tell You About The War We are In and Have Been In Since 2001." His premium content website is called Hughniverse, in a little blimp of 2002-looking word art. He's written more than a dozen books. Out in June was The Queen: The Epic Ambition of Hillary and the Coming of a Second "Clinton Era," a book written in the style of Machiavelli's The Prince to warn against what a disaster Hillary Clinton would be as president. He practices law. He teaches constitutional law at Chapman University Law School, a Christian institution in Orange. He blogs, a lot. But (probably) more than anything, he is a radio host: an Emmy-winning broadcast journalist who insists on seriousness, who wears loafers, who asks Tough But Fair questions. And he is, listeners of any political party can agree, thoughtful, even provocative. Often he starts with a two-part pop quiz: Have you read Lawrence Wright's The Loom­ing Tower? And, was Al­ger Hiss a So­viet spy? (He says he will not pose these questions during the Republican debate.)
Earlier this month, Hewitt interviewed Trump, and asked him about the leaders of Hezbollah, Al Qaeda, Jabhat al-Nasra, and the Islamic State. He said, "I am looking for the next commander-in-chief, to know who Hassan Nasrallah is, and Zawahiri, and al-Julani, and al-Baghdadi," Hewitt said. "Do you know the players without a scorecard, yet, Donald Trump?"
"No. You know, I'll tell you honestly, I think by the time we get to office, they'll all be changed. They'll be all gone," Trump replied, and then he accused Hewitt of asking a "gotcha."
Hewitt said, "I don't believe in gotcha questions. And I'm not trying to quiz you on who the worst guy in the world is." To which Trump replied, "Well, that is a gotcha question, though. I mean, you know, when you're asking me about who's running this, this this, that's not, that is not, I will be so good at the military, your head will spin."
Former Hewlett-Packard CEO Carly Fiorina joined Hewitt on the same day—on short notice—to sit and answer the same questions. (Not that she knew what they were.) She hardly blinked. 
After a week, last February, in which he interviewed Trump, Jeb Bush, Rick Perry, Reince Priebus, Donald Rumsfeld, Bill O'Reilly, Chuck Todd, David Corn, Jon Allen, and Mark Steyn, Hewitt wrote a blog post offering interview rules of engagement. It was titled "Answer the Questions. All of Them. Often." Hewitt wrote, "There are no 'gotcha questions' even if there are 'gotcha answers.'" In April, he asked Rick Santorum and Ted Cruz whether they would attend a same-sex wedding. Politico called it a "gotcha." Others just thought he was making news—testing his party brothers on their position.
It may be precisely this kind of gotcha-non-gotcha that is encouraged Wednesday night: a spirit of internecine confrontation that reveals more than positions previously known. Earlier this year, Hewitt said that he sees no utility in asking a candidate about, for instance, evolution. "I don't believe in asking about personal belief," he said. "It's so antithetical to the founding. We're not supposed to do that. It's good for reporters generally to avoid the 'Nobody Expects the Spanish Inquisition' stuff."
Many liberals who, during the first debate, may have thought to themselves, Gee, this John Kasich makes some sense may come to a similar conclusion watching Hewitt question the candidates on foreign policy. He is no ranter and raver. He supported Mitt Romney in both 2008 and 2012, and has something of that cleanliness and cultivated sanity about him. Which means, on the whole, that he's trusted. He says, "I have cred­ib­il­ity with just about every­one that I'm not go­ing to blow them up."
Hewitt is the grandson of a judge, the son of a Republican lawyer and homemaker. He grew up in Warren, Ohio, which is also, journalists before me have noted, Roger Ailes's hometown. (A peculiar feature of Hugh Hewitt profiles is sprinkling of pals and unlikely contemporaries—a quirk of the mainstream media that Hewitt has very likely discussed on air, and is all about groping toward context.) After graduating from a series of Catholic schools, Hewitt attended Harvard undergrad, beginning a series of path-crossing with Democrats near power. Among his roommates were Dan Poneman, who went on to be President Obama's deputy energy secretary, and Mark Gearan, who worked as President Clinton's communications director. Hewitt considers his very best friend. He told National Journal, "If you've got lefties in your life, you're not go­ing to hate lib­er­als." He continued, "They're just people. They're just wrong."
He also lived, in college, with Grover Norquist. His tutor was Alan Keyes, a frequent candidate who ran opposite state Senator Obama in the U.S. Senate election in 2004. (Keyes lost.)
Hewitt began at Harvard three weeks Richard Nixon's resignation, not that Watergate repelled Hewitt from the party—or even the man. When Hewitt graduated and didn't get into the law schools he was hoping for—Harvard or Michigan—he set up a meeting with Ray Price, Nixon's speechwriter, and got a gig not with Nixon, but with a Nixon Eisenhower: Julie Nixon Eisenhower, President Richard's daughter, who married President Eisenhower's grandson, who was working on a biography of Ike. Hewitt conducted research for Eisenhower at War, and four months later got hired by Nixon himself, for The Real War. This meant a man in his early 20s and a disgraced president, talking for, Hewitt has said, "hundreds, if not thousands of hours."
He spent two years with Dick, even following him to New York, and then he made it to the University of Michigan law school, studying alongside Anne Gust, the wife of California Governor Jerry Brown. (Hewitt has said of her, "I think Anne is among the smartest people I've ever met, and I'd like her to run for the U.S. Sen­ate. I might ac­tu­ally sup­port a Demo­crat, if Anne ran.") Hewitt got a clerkship in the D.C. Circuit with a judge who grew ill. He wound up working, then, for judges including Robert Bork, Antonin Scalia, and Ruth Bader Ginsburg. And then he went to work for the White House counsel as part of the Reagan administration. John Roberts was his officemate, and remains his friend. Hewitt also worked for Lynne Cheney, at the National Endowment for the Humanities.
He met his future wife, Betsy, at a fundraiser for a Republican candidate in San Diego. They married in 1982, at a military base chapel at Camp Pendleton. (She comes from a military family.) He refers to her—always—as "the fetching Mrs. Hewitt." In this he means, as he often does, to be gentlemanly.
In 1989, he was off to California, to help Richard Nixon open his presidential library in Yorba Linda. He worked as executive director. The following year, Hewitt told the Los Angeles Times, "I don't think we'd ever open the doors to Bob Wood­ward. He's not a re­spons­ible journ­al­ist." And then he branched into journalism himself, and has come to regret the comment, or at least wish it weren't so widely reported.
Hewitt was leading tours for dignitaries at the Nixon Library, and also weekly press briefings. He got to meet a reporter at KFI in Los Angeles, who introduced Hewitt to the station's program director. In the winter of 1990, Hewitt launched a weekend radio talk show at KFI-AM. He went on to co-host a nightly news show on the local PBS station. He won three Emmys. In 2000, Hewitt started "The Hugh Hewitt" show, which is now played on more than 75 stations every weeknight from 6 to 9 p.m. ET. From the beginning, he had liberals on. Christopher Hitchens was a recurring guest; E.J. Dionne and Chuck Todd, too. 
Asked, in 2005, whether he might run for office, Hewitt said, "It's not as influential as the media. Elected officials try to influence the public through my show." But investment in the Republican Party seems to be a family trait. His son, James, is an RNC deputy press secretary who works on outreach to conservative media.
When William F. Buckley died, in 2008, the New York Times memorialized a man who marshaled "a refined, perspicacious mind to elevate conservatism to the center of American politics." Rush Limbaugh may have 10 times the audience, but it is Hewitt who is nearer the heir to Buckley. When Hewitt passes the spotlight, during the debate, back to Tapper, viewers might think to themselves, as some did of Buckley, how respectable this conservatism seems. 
(Correction: An earlier version of this story should have identified Dana Bash as CNN's chief political correspondent.)