markets
Germany Reinstates Austria Border Controls Amid Refugee Crisis
By
EU ministers to discuss refugee distribution plan on Monday

Czechs strengthen police numbers on border with Austria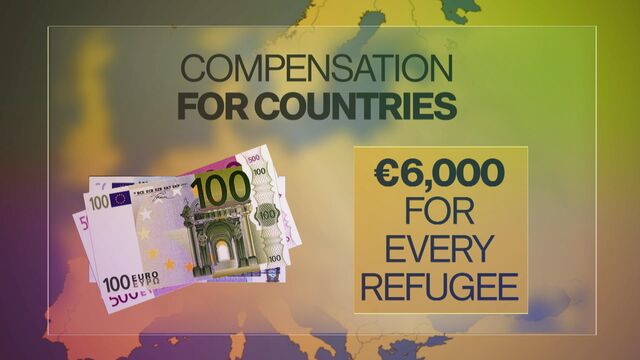 Germany reinstated border controls in response to the refugee crisis as a surge in the number of refugees threatens freedom of movement across Europe.
The temporary measure, focused on the southern border with Austria, risks widespread disruption as governments weigh a further tightening of frontier controls across Europe. German state railway Deutsche Bahn suspended all traffic to and from Austria Sunday afternoon until 6 a.m. Monday under orders of the authorities, it said on its website.
The border controls became necessary to try and "limit the flood to Germany and return to an orderly process of entering the country," Interior Minister Thomas de Maiziere said Sunday at a press briefing in Berlin. "This is urgently needed for security reasons."
The re-imposition of controls abandoned some 20 years ago is a signal to Europe that its biggest economy needs more help to cope with an estimated 800,000 asylum seekers expected to arrive in the country this year. The sudden move also underscores the risk attached to Chancellor Angela Merkel's strategy of welcoming refugees while fellow EU leaders stand still.
Share Burden
The sheer number of refugees shows that "the burden must be shared with more solidarity," de Maiziere said.
A meeting of justice and interior ministers in Brussels on Monday will deliberate EU proposals to distribute asylum seekers from Hungary, Italy and Greece that eastern states have already rejected.

The government of the Czech Republic, which opposes the European Commission plan, said it was strengthening police numbers along the border with Austria and stood ready to take further security measures if needed.
Austria won't introduce controls on the Hungarian border but will monitor the consequences of the German measures over the next two days, Chancellor Werner Faymann said after a government meeting in Vienna Sunday. Faymann plans to meet with Merkel in Berlin on Tuesday.
Suffering Refugees
"We will continue to coordinate closely with Germany to achieve an orderly situation as planned," Faymann said. "The refugees shouldn't be the ones suffering from the measures, and they shouldn't lead to chaos."
Hungarian Prime Minister Viktor Orban, whose government is erecting fences to keep refugees out, welcomed the German measure as a "first step," according to an interview with Germany's Bild newspaper.
Europe's leaders are struggling to form a united front in the face of a mass movement of people unseen since World War II, as refugees flee conflicts from Syria to Eritrea, Afghanistan and Iraq. In addition to a summer influx from Libya across the Mediterranean, growing numbers of people are traveling from Turkey to Greece and north through the Balkans via Hungary and Austria.
Hungarian Entry
The number of refugees entering Austria from Hungary on Sunday was expected to climb to 10,000, according to the regional police in Burgenland. About 12,200 refugees arrived in Munich on Saturday alone with the number "staying constantly high," Munich police said on Twitter.
The European Commission said the German decision to tighten controls "appears to be a situation covered by the rules" of the Schengen agreement eliminating internal borders. The goal must be to go back to open borders "as soon as feasible," it said in a statement.
Merkel Mistake?
As well as stoking EU-wide tensions, Merkel has come under domestic criticism as she struggles to maintain public support for her stance. Horst Seehofer, the Bavarian prime minister and chairman of Merkel's Christian Social Union sister party, told this week's Der Spiegel magazine that her move last weekend to relieve a bottleneck in Hungary "was a mistake that we'll be dealing with for a long time."
Merkel, who discussed the refugee crisis with French President Francois Hollande on Sunday, defended her decision to lift EU registration requirements for migrants seeking to travel north from Hungary.
"We made a decision last week in an emergency situation," Merkel told a conference of her Christian Democratic Union party in Berlin on Saturday. "I think it was the right one, I'm very convinced of that."
For more, read this QuickTake: Europe's Refugee Crisis
— With assistance by Ian Wishart, Patrick Donahue, and Jonathan Tirone
Before it's here, it's on the Bloomberg Terminal.
LEARN MORE