business
Airbus Sharpens Challenge to Boeing With Factory in U.S.
By and
French planemaker plants flag in Boeing's backyard in Mobile

Proximity to biggest airlines and low labor costs lured Airbus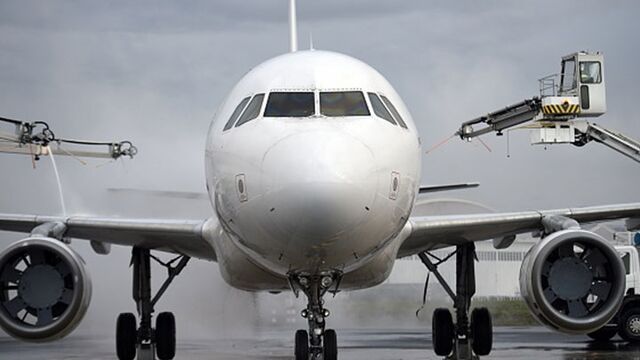 Airbus Group NV, challenging Boeing Co. for supremacy in the $80 billion market for large commercial airliners, is opening its first jet production site on the U.S. competitor's home turf.
The French-based planemaker on Monday is slated to officially unveil a $600 million plant in Mobile, Alabama, although the first of the A320 jetliners to be built there have been taking shape since July. The plant is expected to spur job growth and attract aerospace suppliers to the Southeastern U.S., where Boeing and Brazil's Embraer SA also have footholds.

It's the second single-aisle aircraft factory Airbus has opened outside Europe as the aerospace manufacturer seeks to lower costs and raise its visibility with potential airline clients in a market historically tilted to Boeing.
"It brings them closer to one of the world's greatest commercial markets," said Kevin Michaels, vice president with the aerospace practice of consultant ICF International.
Airbus still lags behind Boeing in the U.S., the world's biggest market for airliner sales. Its 960 single-aisle planes in U.S. airline fleets represent only 20 percent of the total, although orders in its backlog would boost the share to 40 percent.
Next Year
Most of the planes built in Mobile will be delivered to North American customers, Airbus said. Deliveries are due to start early next year out of the 53-acre (215,000-square meter) facility, with the production tempo increasing to four aircraft a month by early 2018. Airbus also produces four A320s a month in Tianjin, China, which is poised to eclipse North America as the largest aviation market.
"It's all about location," said Michel Merluzeau, vice president for aerospace strategy and business development with consultant Frost & Sullivan. "It's about where you do business, and how that property is going to grow over time."
The first two single-aisle jets, bound for JetBlue Airways and American
Airlines, are taking shape at the new plant, whose 260-employee workforce
will swell over time to 1,000. In a twist, the plant and planes will be
certified by European regulators rather than the U.S. Federal Aviation
Administration.
"We're producing on American ground a European product with American people,"
said Timo Zaremba, who oversees product quality at the Mobile plant.
Jet production costs and factory capacity are vital as Boeing and Airbus plot to boost output of single-aisle jets that serve as workhorses for the global airline fleet to upwards of 60 aircraft a month. Airbus currently builds the A320 at the same 42-jet pace as Boeing makes its 737.
Large Backlog
The planemakers are racing to reap profits from a near-record backlog of narrowbody jet orders: 5,181 for Airbus to 4,253 for Boeing, according to data compiled by Bloomberg Intelligence.
Boeing makes its 737 jets at a single factory in Renton, Washington, although the company is considering adding a plant in China where planes would be finished and delivered.
Airbus spreads the work across three factories spread around the globe.
Adding a fourth plant in Alabama will give Airbus greater flexibility to ratchet output up, or down, while saving on land, energy and labor, Michaels said. Final assembly line labor costs represent about 10 percent of the total expense of building a jetliner, he said.
Its Alabama workforce is not unionized and state laws discourage organized labor. The threat of shifting work to the U.S., over time, may also serve as a counterweight to Airbus's European assembly lines in Toulouse and Hamburg, where unionized work forces and heavy government regulations charges weigh on the bottom line, Michaels said.
Airbus also holds an option to double the 116-acre Mobile site. That would enable the planemaker over time to expand the facility to tackle more complicated modification work for its A330 or A350 widebodies or military aircraft such as the A400M freighter, Merluzeau said.
"For Airbus is it all about adaptive capacity," he said. "How can we free more space in Toulouse and Hamburg without compromising quality and rate?"
(A previous version of this story was corrected to reflect the proper pace of production in the eighth paragraph.)
(Updates with plant production in eighth paragraph.)
Before it's here, it's on the Bloomberg Terminal.
LEARN MORE