Louisiana Will Cut Planned Parenthood Medicaid Funds Monday
By
State changes tactics to cut off group's federal support

Texas civil case against abortion provider cited by Louisiana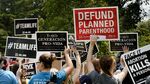 Louisiana said it will cut off Medicaid funding to Planned Parenthood on Monday, switching tactics in a legal fight against abortion providers.
State health officials said the organization violated state law by entering a $4.3 million false-claims-act settlement in Texas two years ago.
The move may end the clinics' bid to hold on to their Medicaid funding through a court challenge. The clinics contend the state can't terminate their contracts without evidence of wrongdoing.
The Obama administration warned the state this week that it's illegal to boot a qualified Medicaid provider without a valid reason. Louisiana previously told the federal judge overseeing the clinics' lawsuit that the contracts gave it the right to break off the relationship for no reason at all.
Planned Parenthood's civil settlement in Texas gives Louisiana the justification it needs to shred the clinics' contracts under the state's administrative code, Olivia Watkins Hwang, a spokeswoman for the state health agency, said Friday in an e-mailed statement.
"During the course of the state investigation into Planned Parenthood, it was discovered that Planned Parenthood is in violation of long-standing administrative rules applicable to Medicaid providers," Hwang said in the statement
She said a notice excluding Planned Parenthood from the Medicaid program will be issued Monday.
Danielle Wells, a spokeswoman for Planned Parenthood's national organization, didn't immediately respond to an e-mail seeking comment.
Planned Parenthood Gulf Coast paid $4.3 million to resolve a whistle-blower's allegation it billed state and federal Medicaid programs for birth-control counseling, sexually transmitted disease screening and contraceptives that were either not medically necessary or not actually provided, according to a Justice Department statement announcing the accord in August 2013.
Louisiana's announcement Friday came hours after Planned Parenthood sued in Arkansas to challenge Republican Governor Asa Hutchinson's plan to block Medicaid funding to two women's health clinics in that state. The group is also suing Alabama, where Republican Governor Robert Bentley announced Aug. 6 that he would end the organization's Medicaid funding as quickly as possible.
A chorus of conservative politicians, including Republican presidential candidate Ted Cruz, a U.S. senator from Texas, is threatening to shut the federal government next month in a campaign to defund Planned Parenthood nationwide.
Abortion opponents including Louisiana Governor Bobby Jindal, also a Republican presidential candidate, point to graphic videos circulated by anti-abortion activists as justification for ending funding. Planned Parenthood has denounced the videos as deceptively edited and said they falsely portrayed the organization as illegally profiting from the sale of fetal organs.
Loss of federal funding in Louisiana would sharply limit Planned Parenthood's ability to treat thousands of poor women at its clinics in New Orleans and Baton Rouge, the group has said. The Baton Rouge facility, where almost 75 percent of patients are enrolled in Medicaid, is at risk of closing without those revenues, the clinics told the court.
The case is Planned Parenthood Gulf Coast Inc. v. Kliebert, 3:15-cv-00565, U.S. District Court, Middle District of Louisiana (Baton Rouge).