business
Move Over, Kettle: Unilever to Sell $200 Lipton Tea Machine
By
Nespresso-like brewing device to debut in France next week

T.O by Lipton machine will compete with Nestle's Special.T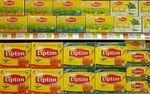 Unilever will debut a single-serve Lipton tea machine to help reinvigorate the struggling brand and challenge Nestle SA, which has spent five years pushing a similar Nespresso-like device for tea.
Unilever's machine, called T.O. by Lipton and manufactured by appliance maker Krups, will go on sale in France Monday, a representative for the London- and Rotterdam-based company said by e-mail. The device will cost about 179 euros ($202), 100 euros more than Nestle's cheapest tea machine in that market. A box of 10 tea capsules costs about 3.90 euros.
The success of Nespresso, whose sales growth peaked at more than 40 percent in 2007, has inspired food companies to experiment with other machines that tie in users to their brands. Campbell Soup Co. formed an alliance with Keurig Green Mountain Inc. this month to sell K-Cups to make chicken noodle soup.
Nestle started selling Special.T machines in 2010, as the Swiss foodmaker began applying the Nespresso business model to other products, such as baby formula. Special.T's website is advertising rebates of as much as 30 euros on its machines in France, lowering its price range to between 79 euros and 109 euros.
The Lipton brand hasn't yet lifted growth to the level Unilever is capable of, Chief Executive Officer Paul Polman, who previously was finance director at Nestle, said on a conference call with investors in July.
Unilever's refreshment division, which includes Lipton, reported revenue of 5.5 billion euros for the first half of the year. Lipton was founded in Scotland in the 1880s and was acquired by London and Rotterdam-based Unilever in 1972.
(Updates with company location in second paragraph.)
Before it's here, it's on the Bloomberg Terminal.
LEARN MORE