With Donald Trump Attacks, Is Bobby Jindal Auditioning to Be the Next Rick Perry?
Struggling in the polls, the Louisiana governor, like Perry before him, has launched a barrage of criticism at the billionaire front-runner.
By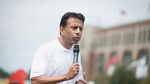 Like other hapless Republicans before him, Louisiana Governor Bobby Jindal launched an offensive against billionaire rival Donald Trump this week. On Wednesday, Jindal released a video comparing Trump to Charlie Sheen, the actor who popularized "#winning" after being fired from his successful sitcom, Two and a Half Men. On Thursday, Jindal gave a speech at the National Press Club in which he called Trump "shallow," "full of bluster," a "narcissist and an egomaniac," "not a serious person," and lacking "intellectual curiosity to even learn." And he followed up the speech with a video of Trump naming all the things he loves (the video ends with the famous "I love lamp" scene from the movie Anchorman).